McGarry passes away
Deano leaves
Seol ready for military service
Vio not quite ready
Jack Harris dies
Hoddle targets Czech Defender
Matt Murray out for the season
Glenn Hoddle is new manager - Profile
It's Arsenal
Guillermo Ramirez on trial
Relegation Struggle
Vio hopes to return in March
Wolves unbeaten run
Paul Jones out on loan to Hornets
Brave Emlyn's funeral 17Nov04
NDAH Launches comeback bid
Clyde back in action
Lowe's contracted
Bischoff's injury ends loan stay
Search for manager
Hayward about turn on Megson
"Running with Wolves" a great Xmas pressy for Wolves fans
NDAH Launches comeback bid
Wolves bide itime in search for new boss
Dave Jones sacked
Moxey "Investors will come"
Ikeme signs
1939 Menu
Clingan on Loan
Jones has 4 matches
Ex Wolves Star dies
Miller still on list
Ikeme 4 Year deal
Memorabilia pack
Cort Pays up
Wolves go Korean
Bjorklund Boost
Don't Panic
Bakayoko out
Cameron signs
Camara plays the fool
McGARRY PASSES AWAY

Former Ipswich, Wolves and Newcastle manager Bill McGarry has died aged 77 after a long illness. The former England international guided Ipswich to promotion to the First Division in 1968 before moving to Molineux, where he guided Wanderers to the 1972 Uefa Cup final and 1974 League Cup success.
He enjoyed less success at St James' Park between 1977-80 and returned for an ill-fated second spell at Wolves, which lasted just 61 days in 1985. More details of Bill's record are here.
His funeral will take place on Saturday in South Africa, when Wolves will hold a minute's silence before their home game with McGarry's hometown club of Stoke.
Dean Sturridge is poised to move to QPR on a free, he is expected to sign an 18 month contract, subject to personal terms and medical. Sturridge joined Wolves from Leicester, initially on loan, in November 2001, signing a full contract on Christmas Eve of that year for £350,000 (plus an extra £25,000 in add-ons). In all competitions he made 91 appearances for Wolves (including as a substitute) and scored 33 goals. Dean said on WOW "I have had a tremendous 3 ½ years at Wolves, and I used to love it when the fans gave me the DEANO chant"
SEOL IS READY FOR MILITARY SERVICE
Seol Ki-Hyeon insists Wolves won't see the best of him until next season - once he has completed a gruelling month of military service. The South Korean will head back to his homeland at the end of the campaign and spend four weeks in his country's army. It leaves the 25-year-old forward, who joined Wolves from Anderlecht for £1.2m in August, with little scope for a holiday after a tough introduction to the English game. But Seol reckons his spell in the armed forces will ultimately make him a better player by making him mentally tougher. "I have to go back to South Korea in the summer to do military service for four weeks so I won't really have a holiday," he said. "It's good for making you mentally stronger so hopefully I'll see the benefits next season and it will help me play better. "I don't know what we'll have to do but someone's told me it's very hard. "There are no heroes, everybody is treated the same and you have to do everything you're told. "Four weeks is very short but when I'm there it will feel a long time. Going in May means I should be back by the middle of June and have a couple of weeks off before pre-season training." Seol became the first South Korean to play in England when he arrived at Wolves, with a dream of helping the club to the Premiership. That dream still burns for him, but with promotion unlikely this season he has allayed fears of following in Henri Camara's footsteps out of Wolves by insisting he's happy at Molineux. "My dream is to play in the Premier League and that's why I came here," he said. "Whether we can go up or we can't I will keep trying to the last and I'm not really thinking about the future. All I can try and do is try and make the team better here, that's my job. "I have settled in well in Wolverhampton. The people have been very friendly and everyone at the club has helped us settle in and that's why I think I can play better and better."
Vio Ganea has been told although his knee injury nightmare is coming to an end he will need more strength work before he will make a full recovery, this is a slight setback as it was thought he would be back by now.
JACK HARRIS DIES
Wolves vice-president and former chairman Jack Harris has died after suffering a stroke. Harris, who was 79, joined the Molineux board when the club, then struggling in the old Fourth Division, were rescued from receivership in 1986. Serving as chairman from 1988 and 1992, he played a major part in Wanderers' revival before Sir Jack Hayward bought the club. Current chairman Rick Hayward, son of Sir Jack, said: "Jack steered the club through one of the most difficult periods in its history. He was a strong and safe pair of hands at a time when there was tremendous upheaval." Wolves' players wore black armbands in Harris' honour in the fourth-round FA Cup-tie at Arsenal and there will be a minute's silence before the Coca-Cola Championship match against Sunderland at Molineux next Friday.
HODDLE TARGETS CZECH DEFENDER
Wolves boss Glenn Hoddle is hoping to make Czech central defender Adam Petrous his first signing, with talks planned for early this week. The 27-year-old, who plays in the Russian Premier League with Rubin Kazan, has spent the last week on trial at Molineux. He played in the closed friendly with Blackburn Rovers which was a 2 all draw. And it appears he has impressed sufficiently for the Wolves boss to try to bring him in on loan for the rest of the season with a view to a permanent move. "We should fly there on Monday or Tuesday for talks," said Hoddle. "Adam would first come on loan until the end of the season because the financial requirements of Kazan are unacceptable." If Wolves can seal a deal for Petrous, it would represent a first breakthrough in the transfer market for Hoddle since his appointment last month. Despite checking a number of trialists, including Norwegian defender Alexander Aas, Guatemalan forward Guillermo Ramirez and Paraguayan defender Angel Martinez, Hoddle has so far drawn a blank. That has frustrated the former England coach, who is keen to strengthen his squad, with a new defender and striker his top priorities. With that in mind, it would appear Petrous' prospective arrival should have little bearing on Joleon Lescott's Molineux future. The 22-year-old defender, who has impressed since returning to action after missing the whole of last season through injury, has been linked with a move to Middlesbrough. But Hoddle will be keen that the signing of Petrous should bolster the squad rather than be a catalyst towards Lescott's possible departure.
MURRAY OUT FOR THE SEASON
Matt Murray will be out for the rest of the season, Murray, who only made his first team comeback against Saturday's opponents Millwall a fortnight ago, will miss the rest of the season after breaking his left foot again. He has surgery on Friday. The Wolves boss now also has to decide whether or not to bring goalkeeper Paul Jones back at the end of his loan spell at Watford after seeing his fears about Matt Murray confirmed on Friday.
Wolves announced Glenn Hoddle as the new manager at 11am today 7th December 2004
click for Glenn Hoddle profile
.IT'S ARSENALWolves have drawn Arsenal in the 4th round of the FA cup and it's away at Highbury, it does not come any harder than this, Wolves old boy Denis Irwin took part in the draw and the game will take place on the weekend of the 29th of January kicking off at 3.00pm. All 5000+ tickets have been soldDetails of all our matches against Arsenal are here....
GUATEMALAN STRIKER IN FOR WOLVES TRIAL
Unknown South American forward Guillermo Ramirez is the latest player hoping to pin down a Wolves contract under new boss Glenn Hoddle. Ramirez, one of the top stars in Guatemala, checked in at Molineux yesterday to begin a week-long trial. He plays for Guatemala's biggest club Municipal and is a leading figure in his country's international side. But, with little or no profile on the European stage, he is eager to try his luck in this country having closed his domestic campaign by helping Municipal win the championship. Wolves boss Hoddle is trying to add to his numbers but finding it difficult to recruit from the fringes of Premiership first teams. He has already taken a look at Norwegian trialist Alexander Aas, who returned home after a 10-day trial but now Ramirez will be hoping for a better fate. With just one win from their last 10 games, Wolves are in desperate need of fresh inspiration and captain Paul Ince has challenged his teammates to take up the burden of leadership to end the slump. The former England midfielder believes Wolves' squad lacks leaders and with his career coming to an end insists the time is right for others to start taking increased responsibility. "It is easy to talk when you're winning games, but harder when you're losing," said Ince. "That's what I look at, being a leader. "If you're not playing well, don't worry about yourself as an individual but it's important to get the people around you playing well. "If you can do that then you've got every chance. You have got to sense danger and you've got to be able to give people a kick up the backside or pat them on the back. "I do feel we are a quiet team. "I'm the biggest moaner in the world - and the lads will tell you that - but at least I'm not quiet and people can learn from that. "The likes of Joleon Lescott can go on and become a fantastic leader, but he's got to start becoming more vocal. "Once he's got that he will be a fantastic captain. That will come in time."
IT'S A RELEGATION STRUGGLE NOW SAYS HODDLE
Glenn Hoddle admitted desperate Wolves are now locked in a fight for Championship survival after defeat at Wigan left him still seeking his first win. Hoddle, on a six-month deal to try to revive a promotion play-off challenge, saw five successive 1-1 draws followed by defeat at Wigan on Tuesday night in what he described was the most disappointing performance of his reign so far. It was a result, which left the play-offs 13 points away - but the relegation zone only six points behind sixth-from-bottom Wolves.
GANEA HOPES TO RETURN IN MARCH
WOLVES Romanian International Striker Vio Ganea has set his sights on returning to first team action in March after a successful operation for knee ligament damage. WW announced 2nd March that Vio is hoping to make his comeback at Everton in the reserves w/c 7th March
It's ARSENAL!
Wolves have drawn Arsenal in the 4th round of the FA cup and it's away at Highbury, it does not come any harder than this, Wolves old boy Denis Irwin took part in the draw and the game will take place on the weekend of the 29th/30th of January. Details of all out matches against Arsenal are here....
Also being looked at by Glenn (appearing in the same practice match v Crewe 12/1 as Ramirez) is Angel Martinez from Paraguay. The 21 year old, a Tacuary player, was rumoured to be signing with Pompey today (12/1) but appeared in our match. Martinez started his career with Olimpia in his homeland, before moving to Argentina to join Racing Club. He has since returned to Paraguay to play for both Nacional and Tacuary, and won a silver medal with his country at the 2004 Olympic Games.
Well you guessed it is not the men's team it is our ladies team. Wolves took their unbeaten run to 8 games and moved up into second spot in the table with an emphatic win away to Lincoln City on a cold and wet Moorlands pitch. Wolves dominated the game throughout with goals from Becky Hall, Emily Westwood and 2 from Amy McCann.
Paul Jones (Jonah) out on loan

The Goalkeeper Dave Jones brought in for the second half of the premiership campaign, but who fell out of the fans' affection in October 2004, has gone out on loan to Watford. Paul has had two spells with the Wolves, and had many seasons between the sticks at Southampton and is Wales' #1.

RIP "CRAZY HORSE"

WOLVES REPRESENTATIVES PAY RESPECTS

Wolves goalkeeping coach Bobby Mimms will represent Wolves at Emlyn Hughes funeral at Sheffield Cathedral today, 17th November. Bobby was Emlyn's first signing when he became player-manager at Rotherham. The service will also be attended by members of the Wolves former players association, John Richards, John McAlle, Geoff Palmer, Mel Eves, and Colin Brazier. There will also be a minute's silence at Saturdays home game with Coventry in memory of Emlyn, and the match day programme will also carry a tribute from one of Emlyn's teammates and London Wolves President John Richards.

BRAVE EMLYN DIES OF BRAIN TUMOUR

Football legend Emlyn Hughes OBE died today (November 9th 2004) after a brave fight against a brain tumour. The 57-year-old former Wolves, Liverpool, and England captain and star of A Question of Sport, passed peacefully away at his home in Sheffield. His wife Barbara, daughter Emma and son Emlyn were by his side. News of his death has shocked the footballing world and comes months after he declared he was making a "fantastic recovery". Today tributes were led by Wolves hero Mel Eves, who played alongside Hughes when he famously captained the 1980 squad which beat Nottingham Forest 1-0 in the League Cup final at Wembley. "He was one of life's greats," said Eves. "He was always very proud of what he achieved at Wolves, winning the League Cup which never happened at Liverpool. "I spoke to him only a few months ago and he was very buoyant and positive, but that was Emlyn. "He was a marvellous influence on Wolves during his time that he spent there, even though it was only a short period. "What he has done for Wolves, Liverpool and England has been absolutely fantastic. "He will be very sadly missed by everyone who knew him." Famously nicknamed Crazy Horse throughout his illustrious career, he announced he was suffering from cancer earlier this year. He was treated for a cancerous brain tumour after being diagnosed in August 2003 and in March said: "I was told it had not grown for three and a half months and last time I was told that if anything, it had shrunk. I feel absolutely terrific." In February he put his cancer troubles aside as he proudly escorted his daughter down the aisle.

London Wolves wish to send their deepest sympathy to Emlyn's family.

. George Ndah has launched his latest comeback attempt as he bids to return to action following an injury-plagued start to the campaign. Ndah returned to training yesterday for the first time since undergoing a second operation to drain fluid from his thigh. After missing the whole of last season following a knee operation, the 29-year-old striker was hoping to be fit for the start of the current campaign. But he sustained what was thought to be a dead leg in his first comeback outing against Bodo Glimt during the club's tour of Norway. He then featured in several more friendlies before breaking down again, with a specialist diagnosing fluid on his thigh. That was drained and Ndah returned to training only to suffer a recurrence of the problem, prompting a second operation. Caretaker boss Stuart Gray said he hoped Ndah would now be able to put his problems behind him and return to action before long.

Note: Ndah's comeback in the reserves was put off this week (15Nov)

Defender Mark Clyde delivered a timely comeback for Wolves last night to enter the battle to replace Mikkel Bischoff at the weekend. Bischoff is back at his parent club Manchester City after a dislocated shoulder brought his impressive loan stay with Wolves to a premature close. But that leaves a glaring vacancy alongside Joleon Lescott for the Saturday lunchtime Midlands derby with Coventry - and Northern Ireland international Clyde looks set to join Jody Craddock and Joachim Bjorklund as a contender. Clyde completed 82 trouble-free minutes for the reserves against Liverpool last night, his first action since an ankle injury in early October. And providing he suffers no reaction, he is likely to go to the top of the pecking order of contenders.

SHOULDER INJURY ENDS DEFENDER'S STAY

Wolves were today reeling from the blow of seeing Mikkel Bischoff's loan cut short by injury. Bischoff dislocated his shoulder near the end of Saturday's 2-1 victory over Rotherham and is expected to be out of action for several months. It means the 22-year-old's loan spell at Molineux has been brought to a premature end and he will return to parent club Manchester City for treatment. The news is a blow to both caretaker boss Stuart Gray and the player who has impressed since arriving from the City of Manchester Stadium at the end of September. London Wolves would like to thank Mikkel for his strong contribution and wish him a speedy recovery

Running With Wolves by Peter Lansley

The Express & Star describes it as a book to 'blow the lid off one of football's biggest scandals.' The Sports Argus calls it 'a powerful and fascinating insight into one of football's most famous institutions.' And Charles Ross writes in A Load of Bull: "If you only read one book about Wolves, make it this one. It's a fabulous read; so good I had to slow down and limit myself to a couple of chapters a day." Running With Wolves, a £16.99 hard-back also containing much rare and atmospheric photography,is a collection of 16 evocative interviews with Molineux stars past and present, including Derek Dougan, John Richards, Kenny Hibbitt, Frank Munro, Tim Flowers, Steve Bull, Robbie Keane, Matt Murray and Kenny Miller. It is now in the shops and selling fast. But ALOB are giving supporters the chance to buy a copy and, with Christmas gifts in mind, have it signed by author Peter Lansley and personalised to you or a friend or family member at no extra cost. To order a copy, please send a cheque for £16.99, made payable to Thomas Publications, to Thomas Publications, PO Box 17, Newport, Shropshire, TF10 7WT. Add £2 for postage in the UK, £3 for Europe and £5 for elsewhere. Unfortunately, they're not yet able to accept credit-card payments. Please ring 07734-440095 if you have any further queries. Thank-you if you have already bought and/or read Running With Wolves. If you like what you see, please spread the word among other supporters and let them in on what we firmly believe to be the most revealing book ever written about the club. For information about past and future Wolves books, please look out in the next few weeks for the Thomas Publications website, www.thomaspublications.co.uk

ed: It's a great book!

18 year old Keith Lowe has been rewarded for his outstanding season in the first team with a three and a half year contract. See Wolves World for the signing.

HAYWARD DOES ABOUT TURN ON MEGSON

Wolves chairman Rick Hayward has done an about-turn on suggestions that Gary Megson is unlikely to be appointed the club's new manager. The Molineux chief suggested on Monday evening that it would be very unlikely that former West Bromwich Albion manager Megson would be considered for the Wolves post. Hayward stated that Wolves supporters would show their displeasure at the appointment, thus giving a clear indication that Megson's chances of landing the Wolves job were remote. However, Hayward has now stated that no candidate has been ruled out for the manager's position and that Wolves are determined to hire someone that can restore success to the struggling Championship side.

Megson meanwhile confirmed on Five Live that he had applied "since it was a condition of his deal" with the Baggies that he followed up on all Premiership/Championship vacancies.

WOLVES BIDE TIME IN SEARCH FOR BOSS

Wolves are expecting their search for Dave Jones' replacement to take another fortnight. They are currently drawing up a shortlist of leading contenders to fill the Molineux post, with the hierarchy determined to take their time to make the right appointment. It means caretaker boss Stuart Gray is set to remain in charge for Saturday's trip to winless Rotherham and possibly the following weekend's Molineux game with Midland's rivals Coventry. Gray was handed the reins at Molineux following last Monday's sacking of Dave Jones, with his time now likely to extend to more than three weeks. With Gray almost certain to be in charge for the visit to Millmoor, it means the earliest Wolves would appoint Jones's successor would be a fortnight after the ex-boss' departure. Wolves have been inundated with applications for the job, with chairman Rick Hayward last week revealing that he and chief executive Jez Moxey received 43 inquiries from managers' agents within two hours of news of Jones' sacking breaking.

TOP COACH MAKES LAST DITCH BID TO BECOME WOLVES NEW MANAGER

Former Yugoslavia national coach Ivica Osim was today making a last-ditch bid to enter the race to succeed Dave Jones at Wolves. I understand the experienced 63-year-old's name was being circulated around Molineux yesterday, only hours after chief executive Jez Moxey and chairman Rick Hayward thought they had completed their shortlist for the vacant manager's hotseat. Osim has a fine track record in the game, based on 22 years of top level management experience, but whether it remains enough to force him into the frame remains to be seen.
JONES DISMISSED

Dave Jones has been dismissed by Wolves. The decision was taken today November 1st 2004 by the board following the 1-0 defeat by 10 men Gillingham on Saturday, Rick Hayward stated " we will always be grateful to Dave for his achievements which included promotion to the premiership something other managers before him failed to do, however being relegated in our first season in the premiership and our poor start to the season was a factor in our decision, it is our wish and intention to make a quick return to the premiership, the board would like to sincerely thank Dave for what he achieved at the club, the board will now begin the process to appoint Dave Jones successor". Stuart Gray has been asked to take charge of affairs until further notice; the players were informed before training this morning.
WOLVES RECORD UNDER DAVE JONES
PLAYED 164 WON 62 DRAWN 49 LOST 53
PRESS CONFERENCE 1st November 2004
Not A Happy Day
Rick Hayward has explained to a packed press conference at Molineux today, of the events that led up to the dismissal of Dave Jones. The chairman said: "This is not a happy day by any means. There have been a lot of telephone calls and discussions between the board and sadly Dave Jones has been relieved of his duties. "Stuart Gray has taken over as acting manager and hopefully things will improve.
"I was quite bullish at the end of the season and said that we would bounce back and monies were made available to strengthen the team. "We have had bad injuries but that is behind us now and, after the disappointment on Saturday, we decided that we had to act. "It was (the Gillingham game) that was very disappointing and I know that the players can do a lot better than that. They have not done Dave Justice. "It's sad that it's come to this but we must move on and hopefully do better. "We will be looking for a new manager - hopefully someone who can take us up at the end of the season."
When asked by a member of the press if he felt sad, Rick replied: "Dave taught me a lot. He is a great guy and a good friend. "But this is business. The buck stops with me.We are 19th in the table and that just isn't good enough. How long do you wait? We felt that we couldn't wait any longer"
DJ HISTORY aT WOLVES
from Wolves.co.uk
Dave Jones replaced Colin Lee as manager of Wolverhampton Wanderers on 3 January 2001. His first game was in the FA Cup when he watched a 1-0 victory over Nottingham Forest at the City Ground. Wolves were in 12th position when he took over the reins and that was to be their placing at the end of the campaign.
During the close season Jones signed Mark Kennedy and Shaun Newton and he also brought in, during the course of the following campaign, Nathan Blake, Alex Rae, Colin Cameron, Kevin Cooper, Dean Sturridge and, initially on loan from Glasgow Rangers, Kenny Miller.
Things started brightly and by the end of September 2001, Wanderers were sitting proudly on top of the First Division. But, after holding an 11 point advantage over third placed West Bromwich Albion, just five weeks before the conclusion of the season, Wolves had to be satisfied with a place in the play-offs. A below par finish saw their arch rivals eat away at the advantage and beat Wolves to second spot in the table behind Manchester City.

The play-off semi-final with Norwich City also ended in disappointment - the Canaries winning through on a 3-2 aggregate.
During the summer months in 2002, Jones signed veteran stars Paul Ince and Denis Irwin. But, at the turn of the year, the team was down in tenth position in the First Division and promotion looked highly unlikely. However, a subsequent run that realised just two defeats from 21 League games meant a fifth place finish and a meeting with Reading in the play-off semi-final - a meeting that was won on a 3-1 aggregate to earn a place in the final against Sheffield United at the Millennium Stadium. First half goals from Kennedy, Blake and Miller (plus a penalty save from Matt Murray) saw the (18 year) long cherished dream of Premier League football finally achieved.

Wolves also reached the quarter-finals of the FA Cup that year, having beaten top flight Newcastle and Leicester on the way to the sixth round. In the summer of 2003, Jones signed a new contract at Wolves taking him through to June 2006.
The stay in the top flight proved to be brief. Despite the inclusion of new blood - including Henri Camara, Carl Cort, Stefen Iversen and Paul Jones - relegation followed last spring.

Results and performances in the current campaign have been disappointing and they have left Wolves just above the relegation zone of the Championship rather than, as hoped, being involved in a battle at the top of the table.

MOXEY: "INVESTORS WILL COME"
Chief executive Jez Moxey insists Wolves are a better target for investors one year after being put up for sale by Sir Jack Hayward. The club's millionaire benefactor announced his decision to hand over the reins at Molineux at a sportsman's dinner on September 25 last year.
But despite asking nothing for the club there has been little interest from investors - leaving Wolves still up for grabs a year on. In that time there has been a change around in the Molineux power structure, with Sir Jack stepping down as chairman to be replaced by son Rick, but retaining his role as president. It meant Sir Jack effectively relinquished his involvement in the day-to-day running of the club, with Rick taking on the 'hands on' job alongside Moxey. Moxey said the club was still open to offers from investors willing to plough money in. And he insisted that despite failing to retain the Premiership status they held this time last year, Wolves were a better proposition for a takeover than they were 12 months ago. "We haven't had any takers for the club," said the Wolves chief executive. "But I would say that we are in a stronger position now because Sir Jack has capitalised the loans he talked about back then. "The club's balance sheet is in a much more healthy position than it was 12 months ago because he wrote off £38m. "That is the most generous offer Sir Jack could have possibly made to the club. "We are moving forward with our plans to build a new training ground in the very near future and we are focused on trying to get back into the Premiership." We are also in the fortunate position of being owned by one person, we have a great fan base and a big league history. "It surprised me when there was so little genuine interest in taking over the club. "I believe this is a good time for investors to come into the football club and if we can find someone to get involved we would do everything we can to try and make that happen."
YOUNG KEEPER SIGNS FOUR YEAR DEAL
Wolves' 18-year-old keeper Carl Ikeme has signed a four year deal for Wolves.
The young keeper who is a product of the Wolves academy is yet to play a senior game under Dave Jones but he has established himself in the reserves, Carl had special praise and attributed his success to Chris Evans and Bobby Mimms who have helped him immensely
SIGNED 1939 WOLVES MENU UP FOR SALE
SIGNED 1939 WOLVES MENU UP FOR SALE
A prized dinner menu signed by the entire 1939 Wolves FA Cup final team is up for auction at Sotheby's next month along with a number of other sought-after Wolverhampton memorabilia. The menu, for the dinner at the Dorchester Hotel, in Park Lane, London, following the FA Cup final on April 29, 1939, is signed in pencil by the team including Scott, Morris, Taylor, Galley, Gardiner, Burton, McIntoch, Westcott, Dicky Dorsett and Maguire. The sought-after memorabilia is set to attract lots of interest amongst avid Wolves fans despite the Molineux team being heavily defeated 4-1 by Portsmouth in the final. The menu, that is covered in cartoons, is expected to fetch up to £200. In a separate lot, a small collection of Wolves mementos includes the signed menu from the opening of the New Sports Ground in 1949. Published Also included is a 1959 Hobson CC v Wolves FC cricket programme signed by Billy Wright and a copy of Billy Wright's autobiography - Football is My Passport - published in 1921. These items altogether are also expected to fetch £200 in total. The auction in London is being held on November 2 at 10.30am.
CLINGAN OUT ON LOAN
Wolves young defender Sammy Clingan has gone out on a month loan to chesterfield. He has signed the official papers and will meet up with his new players soon. The 20 year old came through the Wolves academy, and has bee a regular for the reserves this year; he has yet to play for the first team despite being names as sub twice this year
JONES HAS 4 Matches
Wolves boss Dave Jones must come through an October trial to hang on to his Molineux job. Jones has been given the next four games to convince the club's hierarchy that he is still the man to take Wolves forward - or face being jettisoned from the post, which he has held for four years. The four-game test is the hidden sub-text of chief executive Jez Moxey's statement outlining the board's discontent at the campaign to date. The trial begins at Nottingham Forest's City Ground next Friday - but the key games for Jones are more likely to be the two home matches which follow against Derby and a currently in-form QPR. Wolves have yet to win at Molineux and finished their last match there booed off by angry fans who had watched the promotion favorites lose 3-2 to Cardiff. An improved performance at West Ham a week later could not prevent another defeat, which left Wolves 20th with two wins from 11 games - a record which Moxey said in his statement "just isn't acceptable". I understand Jones will need nine points from the 12 available this month to remove the immediate threat of the sack. Anything less would put his position under further review while a failure to bring in any wins could lead only to one fate. It brings high pressure - especially to those Molineux games where Wolves have so far faltered under the demands of supporters. The Wolves' board were initially sympathetic to the loss of Henri Camara and rush of early injuries which hit Jones's plans and refused to become involved in the debate soon raging among fans about the manager's future. But Moxey's surprise decision - unprompted and having rejected previous requests from journalists to speak - to go public with the hierarchy's disapproval last night suggests a sharp change in his and the Hayward family's position. Jones, though, is a proven fighter and has been under the cosh at Molineux before.
EX WOLVES STAR DIES
A Wolves star who scored a hat-trick against the Baggies to help secure Championship victory has died in South Africa. Right winger Micky Lill, who was 68, lost his battle with cancer in a Johannesburg hospital yesterday. Lill was born in Romford, in Essex, and after gaining England Youth experience he played for Stoney Athletic. He played at Molineux from 1957 until 1960, gaining a championship medal. After a stint with Everton, he moved to Plymouth Argyle in 1962 before ending his League career in 1964. In 121 league appearances in England, he scored 28 goals before moving to South Africa. While there, he played for Guildford Germiston Callies and scored 13 goals in 13 games, helping them avoid relegation. Lill took to coaching and eventually worked as a PE teacher just outside Johannesburg. Peter Creed, honorary secretary of Wolves Former Players Association (FPA), said he was known as 'Diamond Lill'."Micky was fondly remembered by his team mates at Molineux.
YOUNG KEEPER SIGNS FOUR YEAR DEAL
Wolves' 18-year-old keeper Carl Ikeme has signed a four year deal for Wolves.
The young keeper who is a product of the Wolves academy is yet to play a senior game under Dave Jones but he has established himself in the reserves, Carl had special praise and attributed his success to Chris Evans and Bobby Mimms who have helped him immensely
MILLER STAYS ON TRANSFER LIST
Scottish international striker Kenny Miller will remain on the transfer list, Miller is top scorer for Wolves, we have made a poor start to their campaign and in the bottom half of the Championship table. Manager Dave Jones said: "Kenny decided he wanted to go on the transfer list because he couldn't get into the team. "Then all of a sudden all our strikers are injured and Kenny is the leading man and scoring goals. "Him coming off the list has never been mentioned but if he keeps playing well and scoring goals then why change it?"
MESSAGE from MOLINEUX- Memorabilia Pack
We have just produced the Wolves FC (Stan CullisYears) Memorabilia Pack and althought the publishers are WH Smith, we are trying to get the pack promoted as much as possible. If I send you a copy down, can you give it a review/plug to let your members know of its existence? The pack is currently for sale in Smith's branches for £12.99 and is also available via the club shops. The pack contains high quality replicas of programmes, papers, brochures etc. from the Cullis era. It is not aimed at specialist collectors, but more towards a wider audience, and therefore includes items such as the '49 FA cup final programme and player's itinerary, Evening Standard from the 1960 final victory, Player's rule book ('40's), selection of programmes inc. Stan's first game as Manager, Moscow Dynamo, Schalke etc, cigarette cards, Billy Wright's contract and so on.
There is a picture of this pack on the Merchandise page
CORT PAYS UP
Wolves £2 million striker Carl Cort has escaped the threat of arrest after paying an unpaid £435 court fine. A warrant ordering the 26-year-old former England Under-21 international to be taken into custody was issued at Wolverhampton magistrate's court yesterday. It emerged that he had not paid a penny towards fines imposed after he picked up five-fixed penalty fines and another for a motoring-related offence. Wolves spokeswoman Lorraine Hennessey said: "Arrangements are being made for Carl Cort to pay off the fines, and as far as we are concerned that will be the end of the matter." It is understood that the club contacted the court yesterday when it was made aware of the magistrates' decision.
WOLVES GO KOREAN
Wolves paraded their new signing at the game with Leicester the Korean forward Ki-Hyeon Seol; the Korean will probably feature in the Wigan game, as he is ineligible for the Ipswich game.
BJORKLUND BOOST
Joachim Bjorklund is set to hand Wolves manager Dave Jones a defensive boost by making a surprise return in the reserves tonight. The former Sweden international is pencilled in to start this evening's Molineux clash with Newcastle after spending a month on the sidelines. It was originally feared the 33-year-old would be missing for six weeks. He pulled a hamstring in Wolves' home draw with Preston last month. The defender's comeback slightly ahead of schedule could hardly be better timed, coming in the wake of losing Rob Edwards for three months with an ankle ligament problem which will require surgery. And if Bjorklund emerges unscathed he could go straight into first team contention for Saturday's visit of league leaders Wigan - a match for which Wolves still have around 2,000 tickets left.
postscript: Carl Cort starred in this reserves match almost making a goal for Deano, before putting it in the net himself. Kevin O'Conner launched a screamer, which gave Wolves a 2-1 win in front of 793 fans. Bjorklund played 60 minutes, while Carl lasted 81. Matt Murray, Kevin Cooper and Dean Sturridge played the full 90.
KEEPER JONES ASKS "DON'T PANIC"
Paul Jones has called for everyone around Molineux to keep calm heads over Wolves' disappointing start to the season, insisting: "We mustn't panic." Wolves have failed to win in their six league games so far, drawing four and losing two to stand just outside the bottom three. But the keeper, who was due to play for Wales today in their World Cup qualifier in Azerbaijan, believes the fact that Wolves also pieced together a five-match unbeaten run during that spell means their fortunes could soon turn around. Injuries have meant manager Dave Jones has been forced to throw rookie Leon Clarke into the team alongside his only fit senior striker Kenny Miller. But the Wolves boss will be able to strengthen his forward line with new signing Seol Ki-Hyeon when Wigan visit Molineux in a week's time, while Carl Cort and Dean Sturridge could also be fit. "It is still early days in the season and it's important not to panic," said the Wolves keeper.
JONES WELCOMES TWO WEEK BREAK
Dave Jones has welcomed the upcoming 2 week break after seeing his injury hit squad after they only managed to gain 4 points from their opening six games, Jones said "we are having to dig deep and play people who are still learning their trade".
BAKAYOKO ON WAY (out)
Wolves were in talks with the ex Everton winger Ibrahima Bakayoko, who is in his final season with Osasuna of Spain, but Wolves have pulled the plug on the signing, insisting: "The deal wasn't right for us." Chief executive Jez Moxey had been in talks with the Ivory Coast international over Wolves taking over the final year of his contract from Spanish club Osasuna. Bakayoko had a medical over the weekend. The player, who can operate either as a central striker or on the wing, then watched Saturday's home draw with Leicester from the Molineux directors' box. But the international transfer window closed at midnight without the deal for the former Montpellier and Marseille star being completed. And Moxey said it had been the club's decision not to press ahead with the signing of the 27-year-old, who once cost Everton £4.5m
CAMERON SIGNS ONE YEAR EXTENSION
Colin Cameron has pledged his future to Wolves by signing a one-year extension to his contract. Cameron's current Molineux deal was due to expire at the end of the season, but the Scotland midfielder has now committed himself to the club until the summer of 2006.He is the third Wolves player to put pen to paper on fresh terms this summer, following in the footsteps of defenders Mark Clyde and Lee Naylor.
BURNLEY NEXT FOR WOLVES
Wolves have drawn Burnley in the second round of the Carling Cup.
The game will be played on Tuesday 21st September at Turf Moor.
MILLER WANTS OUT
Disgruntled striker Kenny Miller has asked for a transfer from Wolves. The 24-year-old Scot asked to leave at the end of last season but his transfer request has been the subject of a news blackout at Molineux.
Miller, the club's joint record signing at £3m when recruited from Rangers in January 2002, is unhappy about his demotion from the strike force front line.
But both the player and the club have kept a lid on the request with Wolves anxious about more "negative" PR in the wake of the Henri Camara furore and the player's camp wary of antagonising the Molineux public.
CAMARA PLAYS THE FOOL
Henri Camara today turned the screw on Wolves by telling his agent he will not return to the club for pre-season training.
The Senegal star's advisor Willie McKay said Camara, who has put in a written transfer request, was adamant that he wants an instant return to the Premiership and would not contemplate a year in the Championship.
But chief executive Jez Moxey shrugged off the new storm, insisting the club would give the 27-year-old every opportunity to return to the fold.
Bolton have already lodged their £2.5m valuation of the player with Wolves without making an official bid, but news of the Trotters' interest appears to have whetted Camara's appetite for a transfer.
Camara subsequently has gone on a one year loan to Celtic, with the option to buy (Ed.)
MESSAGE from MOLINEUX
We have just produced the Wolves FC (Stan CullisYears) Memorabilia Pack and althought the publishers are WH Smith, we are trying to get the pack promoted as much as possible. If I send you a copy down, can you give it a review/plug to let your members know of its existence? The pack is currently for sale in Smith's branches for £12.99 and is also available via the club shops. The pack contains high quality replicas of programmes, papers, brochures etc. from the Cullis era. It is not aimed at specialist collectors, but more towards a wider audience, and therefore includes items such as the '49 FA cup final programme and player's itinerary, Evening Standard from the 1960 final victory, Player's rule book ('40's), selection of programmes inc. Stan's first game as Manager, Moscow Dynamo, Schalke etc, cigarette cards, Billy Wright's contract and so on.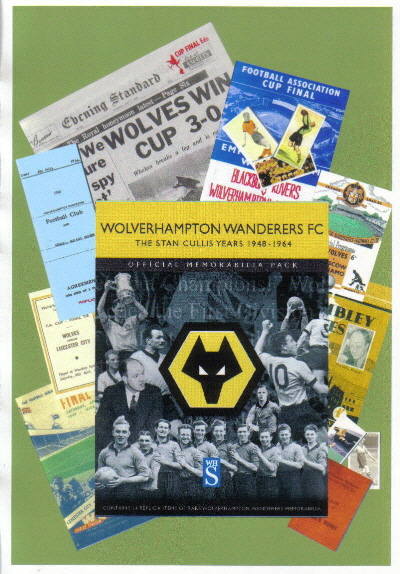 SILAS ON WAY TO PORTUGAL
Wolves today agreed a season-long deal to loan midfielder Silas to Portuguese top flight team Maritimo - with a view to a £3m permanent move.
The 27-year-old arrived at Molineux last summer in a £1m deal from Uniao Leiria but struggled to adapt to the pace of the English game, making only two Premiership starts.
The Portuguese international has now been loaned to the Madeira-based side, who finished seventh in the Portuguese Super Liga last season, for a year.
Maritimo have also been given the option to buy Silas for £3m at any point during his year-long stay.
NDAH EXTENDS CONTRACT
Injury-cursed striker George Ndah today agreed a new one-year deal to stay with Wolves next season.
The 29-year-old forward, who missed out on the entire Premiership campaign, has accepted an appearances-related contract. The deal gives Ndah the chance to re-launch his career after a year-long struggle with knee trouble raised doubts about his long-term future .
MURRAY "I WILL BE NUMBER ONE AGAIN"
Matt Murray has set his sights on challenging for the Wolves number one shirt in time for the start of the new season.
Murray cut a dejected figure last season after seeing his Premiership dreams wrecked by injury. But after almost 12 months on the treatment table the 23-year-old is finally approaching full fitness.
And he is looking forward to challenging Paul Jones and Michael Oakes for a place in the first team.
The England under-21 goalkeeper played just one Premiership game for Wolves - the first day 5-1 defeat at Blackburn - as he suffered a back injury which kept him out of action.
FURTHER NEWS FOLLOWING SHORTLY
The news on this page is supplied by
Garry Mastbraker
who can be e-mailed at