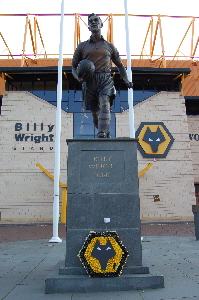 Last Christmas (2011) we were delighted to see Jim Heath in the City Bar with his fascinating Wolves in 20:20 Vision collection of Wolves facts. (book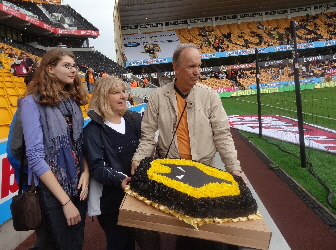 info here) Jim had been ill, but we hoped was recovering and in remission. However we were very sad to learn that Jim passed away on the morning of the Aldershot League Cup match at Molineux on 18th August and our thoughts are with JIm's wife Christine and his children and family..
We wanted to respect JIm's memory and with his daughter Nicholl and sister Alison we placed a wreath before the Derby match at the North Bank behind the goal where he had spent so much of his life. With Nicholl and Alison in the first picture is WWLSC secretary Dave Slape.
In the third picture they are joined by Gwlym, Morag, Peter Abbott (picture courtesy of Dave Bagnall Photography). A few more pictures are at the bottom of this page.
Like a true Wolves fan, with a great sense of humour, Jim had selected the final piece of music at his funeral to be The Liquidator
Charles Ross, a longtime friend of Jim, in spite of being the tyrannical editor of ALOB, wrote several tributes to Jim. At the same match he made a special ALOB or "A Load of Heath", which in that one afternoon (of the Derby match) raised over £500 for Jim's hospice (www.severnhospice.org.uk) and St George's Cricket Club where JIm's son Jack plays. Donations to both are through the www.stgeorgescc.org.uk website. A Load of Heath quickly sold out, but by kind permission of the editor we reproduce it at the bottom of this page Click here to see A Load of Heath
Jim also wrote for Dave Instone's Wolves Heroes (amongst many things) and their tribute is published here http://www.wolvesheroes.com/2012/08/12/our-tribute-to-jim/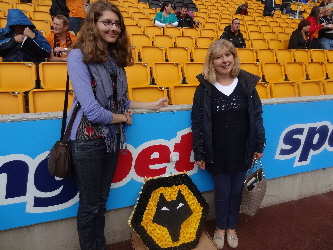 Jim Heath (1958 – 2012) RAISING FUNDS FOR GOOD CAUSES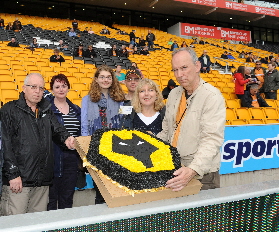 by Charles Ross
After the sad loss of the much loved Jim to cancer on August 11th, here are the details of how to make a donation in his memory.
One of Jim's final requests was that any such donations should be split equally between 2 good causes close to his heart.
These are the Severn Hospice which cared for him in his final days; and his local cricket club, St Georges in Telford, where he was, as you might have guessed, a stalwart and where his son plays. The cricket club have volunteered, with the family's approval, to collect all monies and then to split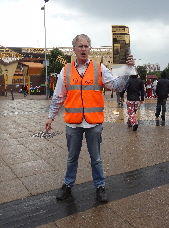 them between the Hospice and the Cricket Club.
To make a donation by PayPal, or by cheque, just go to the St Georges Cricket Club website - www.stgeorgescc.org.uk
All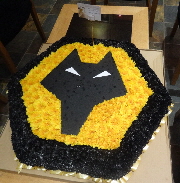 the necessary information is there on how to donate.
One thing which characterised Jim was his fabulous generosity of spirit. He never asked for anything in return. Time then, perhaps, for Wolves fans to help Jim leave a legacy at the Hospice and the Cricket Club. In death as in life – he will be helping others.
On behalf of Jim's family - thank you.
You will be pleased to know that Jim's (and Glen's) website at http://www.junkarchive.co.uk/wordpress/ will live on preserved in its current state in Jim's memory thanks to Glen. The E&S said
Paul Richards at Wolves kindly laid the wreath at Billy's statue after the match and then took it to the Wolves remembrance corner.

Wolves in 20:20 Vision

London Wolves member Jim Heath has written 20:20 vision - many of the most obscure/interesting/strange facts or thoughts about the mighty Wolves. Jim appeared in the City Bar before the win against Sunderland and was featured on Midlands Tonight News programme.
Proceeds from the book will now go to Jim's two charities
ALOB editor Charles Ross says:
No, don't stop reading. This is not me chasing you for an article or anything quite so mundane. It might actually be interesting for once. A new book has just dropped on my doormat. Called "Wolves In 20/20 Vision". I regret to tell you that it is really rather good and I would strongly suggest you buy it and use it to fill a few stockings (your own secret ones included if that's your style). It's written by a certain Jim Heath, an occasional contributor to ALOB down the years - the angel in many an ALOB centrefold, in fact. In short: it's 20 chapters of lists. Each chapter or list has 20 items selected by the quirky old sod (so you may agree with some, disagree with others - but hey, you know what he's like).

Chapter/list titles range from "20 chants and interludes" (with eg a piece on "Wooly Bully") to "20 awesome away days" (e.g. Juventus away 1971/2) to "20 hot controversies" (weirdly, an ALOB episode gets a mention here). A paragraph or so on each of the 20 items in each of the 20 chapters. So that's 400 to flick through. I can't comment on some things - his reference to my anorak is with the ALOB lawyer. I retain the right to sue for reputational damage. He was too kind about it. Smart arse git whilst getting the dig in anyway. PAH!

At £9.99, it will be good value bogroll for how many sittings it will take to get through, so he's been true to the fanzine ethos in that respect. Although, sadly, the book has been professionally proof read and put together by Thomas Publications . So you will find that Jim's usual appalling grammar, some of which I would sneakily not edit out of the drivel he sent me for years, has been turned into a passable approximation of English. So it has novelty value!

Anyway, if you want a taster, it's on Jim's own website (where you can also delve deeper into his murky past if you wish and have a strong stomach): http://www.junkarchive.co.uk/wordpress/?p=2333
But, if you're not seeing Jim in Telford the easiest way to acquire this tome is to ask at your local bookshop or to follow the remainder of Charles' review and go to the publishers at http://www.thomaspublications.co.uk/booksx.asp?club=Wolves&ID=25 they are very efficient in despatch etc (i.e. Jim is not involved in that side of things. He just wrote summat half decent and gave it to them - they get to turn it into something readable, print it, sell it, and hopefully cover the costs. I know their feeling.) Tittering aside, I'd try them as first port of call. Sadly, I don't get a penny out of this. Cheers Jim, bloody good mate you are! So this is the best hagiographic review of the book you're getting off me, sonny boy! PAH! Buy it.

For more information on the book, http://www.wolvesheroes.com/2011/11/06/wolves-in-2020-vision/ I bought one for a pre-Christmas competition to give as a prize at the 2011 Christmas Lunch
More pictures from Molinuex 25/8/2012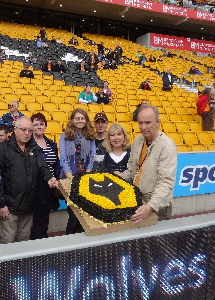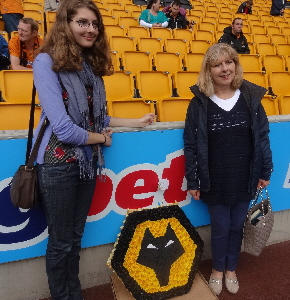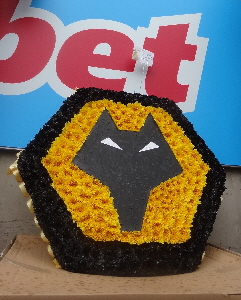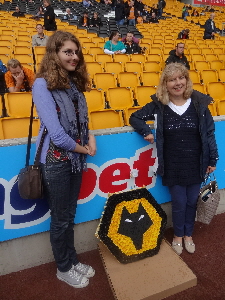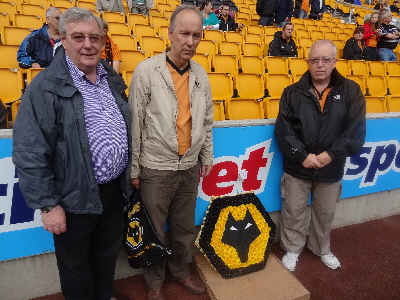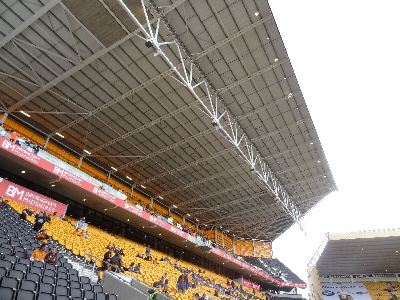 A Load of Heath published by ALOB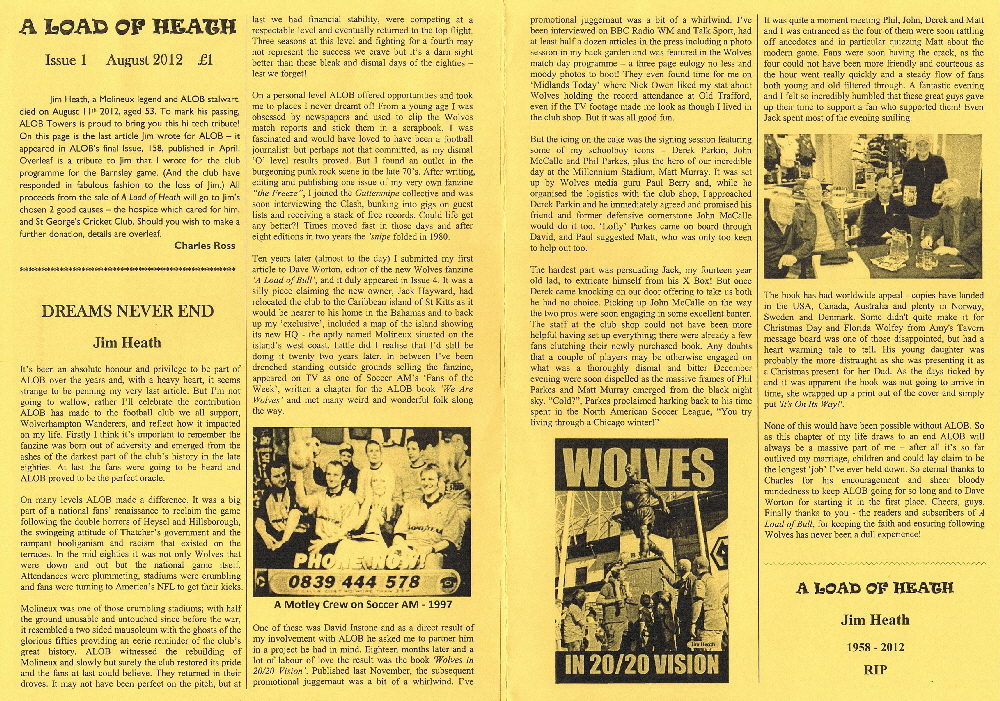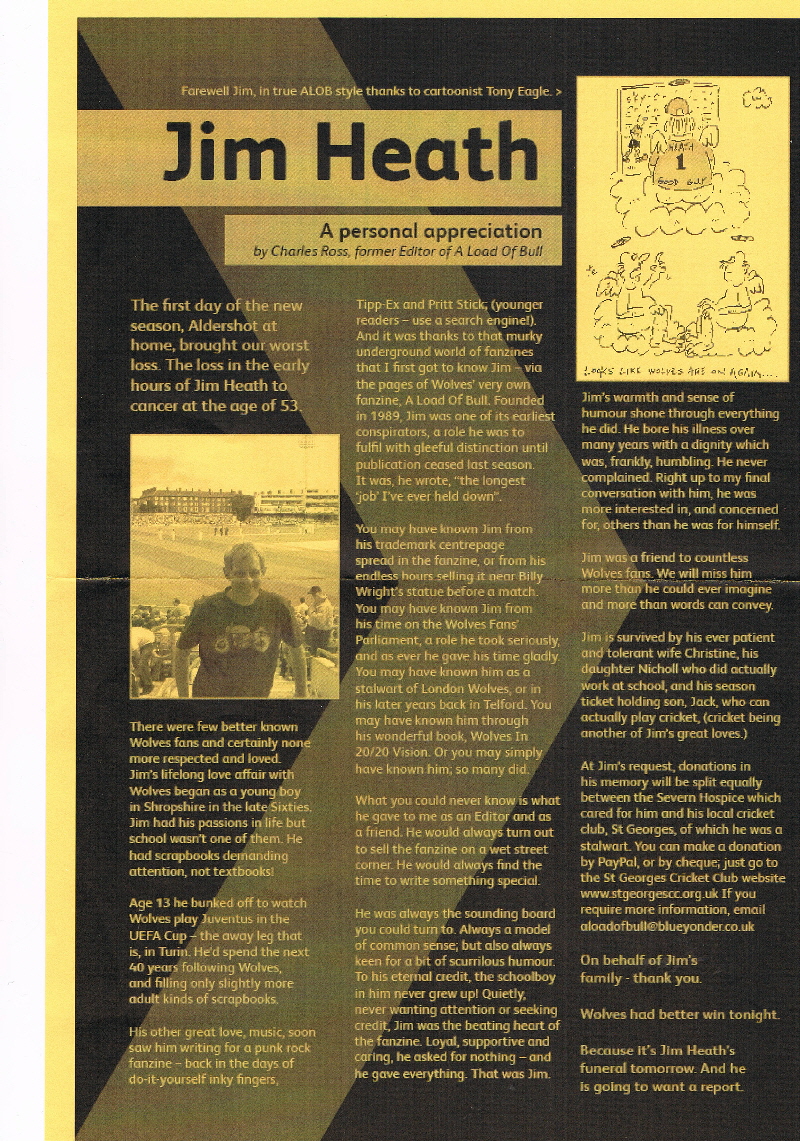 If you enjoyed reading A Load of Heath please make a donation to Jim's charities at www.stgeorgescc.org.uk