London Wolves Merchandise
WW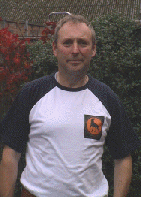 LSC are pleased to be able to announce additional merchandise is now available to members courtesy of spreadshirt.co.uk Our first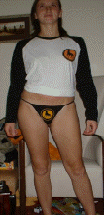 items are already in the shop which you can access and buy clicking on the white Promodoro shirt..... Dave continues to supply all the other items on this page directly.
Additional items are being prepared but we have now launched black t- polo and sweat shirts as selected by members at the Luton match, as well asladies' and men's jackets. Thanks to Roy and Ruth for modelling the 1966-2006 T shirt and the long sleeved shirt with matching thong. It is easy for us to move the WWLSC badge to the back of the shirts or jackets or to introduce other colours - please email us at email with your requirements
Click on picture above or index below for details
LONDON WOLVES Polo Shirts and Fleece Lined Coats - bearing the one-time Wolves badge from the Wolverhampton Town badge with "Out of Darkness" and "London Wolves" bars. Contact Dave or Stoo for sales information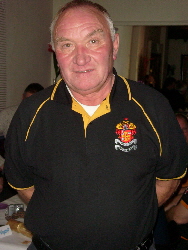 Badges WWLSC & 40th Anniversary
Limited Edition Doog Print
Limited Edition Wolves Legends signed Print (Billy Wright & Steve Bull)
Shirts
Key Fobs
Memorabilia Pack
Magazines (dave) Magazines (Mick Harper)
Instant Win Blackjack Cards
Programmes
Golden Gate Weekly Draw (In aid of the WWFC Academy)
NEW Howling Wolf merchandise
Signed Wolves memorabilia at
http://www.matchshirt.net/


WWLSC Enamelled Badges £2.50 + s.a.e.
the inscription: is Wolverhampton Wanderers London Supporters Club
WWLSC 40th Anniversary Badge (£3 + SAE)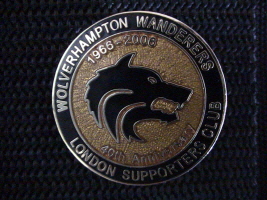 London Wolves 25th Annversary Badge (£3.50)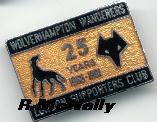 Limited Edition Doog Print
Available from Dave Slape and Stuart Earl £20 print £37 framed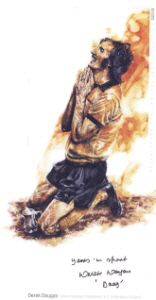 These are very very rare - signed by the two greatest Wolves Legends Bully & Billy
copies have been sold for over over £600! For London Wolves members, Stuart has these at the very special price of £200 + P&P. Framing extra. Contact Stuart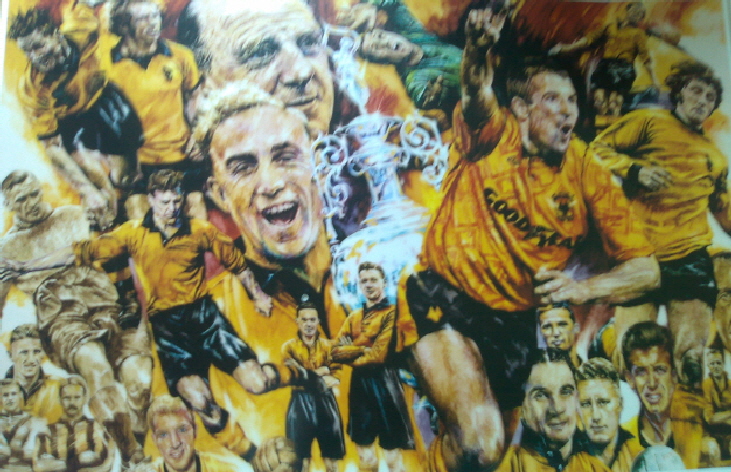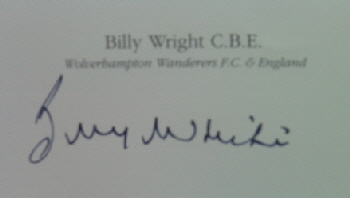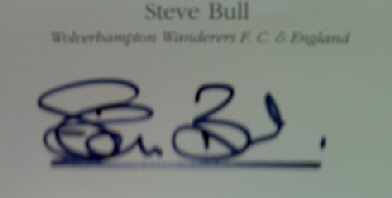 WWLSC Tee Shirts:- small / medium £9.00 + 86p
extra large/ XXL £11.00 + 86p
available at a special price currently reduced to £6 plus £2.75 postage- contact Dave
PROGRAMMES AVAILABLE: (Add Postage)
2006 Southend away £2
Scarborough v Wolves 1987-88 £1.50
Wolves v Torquay (Sherpa Van Trophy Southern Area Final) £1.50
Wolves v Port Vale 1988-9 50p
Wolves v Nottingham Forest 2002-3 50p
Walsall v Wolves 2002-3 50p
Charlton Athletic v Wolves FA Youth Cup 2002-3 50p
A Load of Bull (ALOB) - THE fanzine £2.00 + 35p.
Wolves Official Magazine £2.99 available quarterly
OLD PROGRAMMES
Some 60's, 70's, 80's and 90's programmes are available.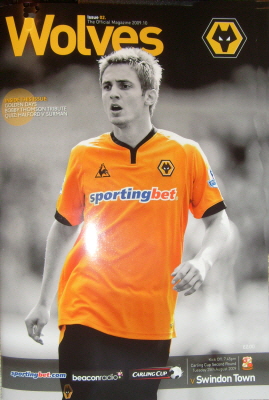 Prices from 10p.
Missed a programme? If Dave hasn't got a copy then Mick Harper probably has it. You can contact Mick on mharper003@myguide.co.uk He's always in Waterloo Road (in the office car park on the corner of Newhampton Rd & Waterloo Rd) before home matches.
Instant Win Blackjack cards - 20p -
(London Wolves members are invited also to sell
these - contact Dave)
This draw is run by WWFC to support the Youth Academy. There is a weekly jackpot of £1,000 and London
Wolves can give access to the draw for a monthly fee of £4.33 (£1 per week) paid by standing order.
Please contact Dave Slape for a form or click here for a downloadable one and more details
Postage will be added to all orders.
All the above available from:-
Dave Slape, 26 Brockenhurst Way,
London, SW16 4UD