October 2005 Click on month for reports: 2005-6 ReviewApr06Mar06Feb06Jan06Dec05Nov05Oct05Sep05Aug05preseason
Watford Preston Derby Sheffield Utd
NEXT: Tue 1 Nov - Brighton v WW 19:45 at the Withdean
Last year this match got us on track briefly. we really need something now - no win in 5
Sat 29th Watford 3 WW 1 (Seol 91)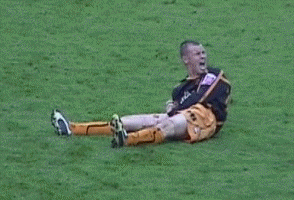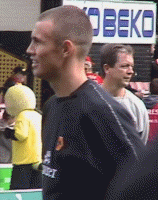 Just like the Carling Cup we dominated the first half and Watford supporters were left asking "How did we win that?", again. And we're without our best forward for at least 6 weeks after Kenny Miller pulls a hamstring and is stretchered off.
An unusual formation was Hoddle's choice, with 5 centre backs playing - Jo, Gabor Gyepes and Jody Craddock all starting in a sort of 2 3 2 3 or 2-3-5 formation with Rob Edwards at right back and debutant loan Tom Huddlestone starting in front of the back 5. He's a big lad, on loan from Spurs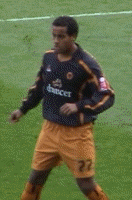 following his £3m transfer last season and looked very useful. He very quickly sussed out that, when the ball is delivered quickly, Kenny is very likely to break the offside trap. With Sicknote playing as well we had enough flair and pressure to have been three up by half time, but for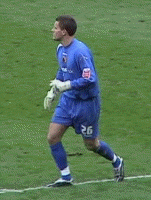 Ben Foster - the £3m rated loan goalkeeper from Man U. He saved at point blank range from Kenny and from Leon and when Kenny beat him with a terrific curling shot, he hit the post. I think by this time we knew what would happen.
Gabor Gyepes went off at half time - he'd been a bit slower but had had another good game pushed on to the right. Joleon was on the left covering Nayls as Jody took the centre of the back three. So we presume it was an injury as loanee from Rangers (via Sheffield Weds) Maurice Ross replaced, but actually swapped with Rob Edwards who moved to right centre half. And it was this formation which failed miserably as two of the three goals came from corners on our right. The first Watford goal by Demerit and then the flick on for Devlin's goal just weren't challenged at all. For the first Ross and Edwards were just left standing and it was too far over for Oakes to even think of. The goal in between by Forrest loan Marlon King was just another example of Oakes being too slow off his line and missing the ball leaving King with a difficult angle but he still slotted it home in spite of Jody's flying leap at the ball.
But we knew it was all over in the 83rd when Kenny was stretchered off with what was obviously a hamstring injury - so he'll be out for 6-8 weeks. And now we're down to two strikers - Vio and Leon.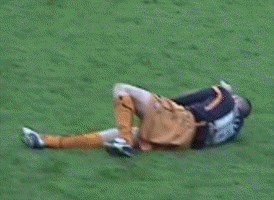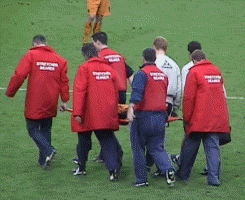 Seyi Olofinjana and Seol showed how easy it was to open up the Watford defence in the last few minutes but Seyi headed well wide with an open goal in front of him, while Seol took Ross's throw in headed on by Seyi and passed forward beating the offside by Leon for Seol to whip it home.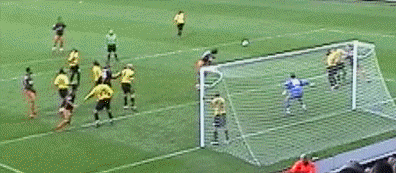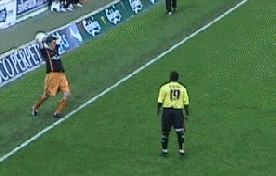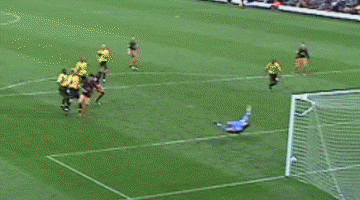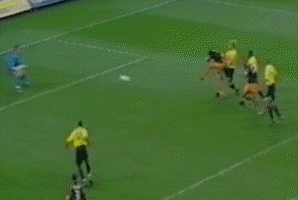 Watford: Foster, Chambers, Carlisle, DeMerit, Mahon (capt), King, Devlin (Bangura 88), Doyley, Young, Spring, Henderson (McNamee 66). Unused subs: Chamberlain, Stewart, Mackay.
Wolves: Oakes, Edwards, Naylor, Anderton (Seol 77), Lescott, Gyepes (Ross 45), Craddock, Kennedy (capt), Huddlestone, Miller (Olofinjana 83), Clarke. Unused subs: Cameron, Postma.
Booking: Gyepes (13 - obstruction) Referee: C. Webster Attendance: 14,561 (2,093 away supporters).
Sat 22nd WW 1 (Vio Ganea) Preston North End 1 (Etuhu)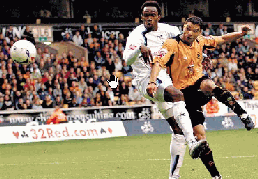 Well we got 2 points out of two matches and we're now a long way off the promotion places - 16 points , and right back in the pack (and only 11 off rock bottom Millwall). Preston, indeed, came to win, had more chances, and if their shot which hit the post just before Vio Ganea equalised had gone in then it could have been all over. But it was Vio who stole all the headlines - hero (according to the fans) , villain (according to Glenn) with an outstanding equaliser - a cross from Seol and Vio, on the edge of the box, withstood the challenge from Claude Davis, and looped it over Carlo Nash - one of the most spectacular goals we've seen for a long time.

Vio was delighted to be making his first League start since May 2004 after which he injured cruciate ligaments in the pre-season tour of Norway... as you can see him jumping for joy...
Preston showed their intent with two early corners taken. The second by David Jones flashed right across the goal mouth and Preston narrowly failed to connect . In the sixth minute, DarrenAnderton's free-kick from the right of the Preston box fell to Gabor Gyepes but the Hungarian's shot was deflected over by Graham Alexander. Lee Naylor's corner was cleared for another and this time it was Anderton that took the kick.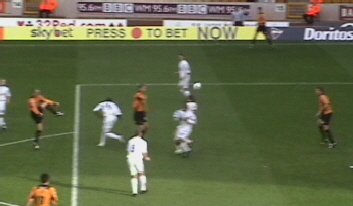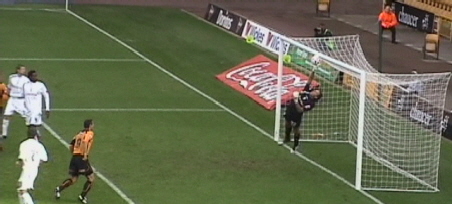 The ball was headed down to Kenny who controlled it before volleying towards the top corner of the goal only for Carlo Nash to make a fingertip save.
There was another moment of danger for Wanderers when Adam Nowland whipped over a low cross that Lewis Neal just failed to get a touch to at the far post. (the ball is by the left post in the picture)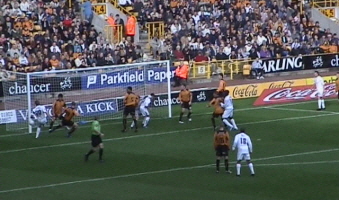 A follow through by Mark Davies on a loose ball led to Chris Lucketti being injured in the 20th - we thought Mark was lucky not to get booked. This brought Youl Mawene on - who Dave Jones had trialled in the pre-seasons last year. Wolves were slow in making an offer and Preston jumped in. Mawene was to prove strong for the rest of the match.
Jones fired straight at Oakes from 20-yards then Mawene was wide with a near post header after a corner from Paul McKenna.
Mark Davies tested Nash with a low shot from just outside the box, before Nowland limped off to be replaced by Dixon Etuhu just before the break. And the substitute had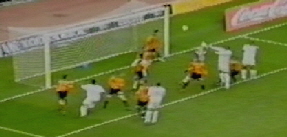 been on the pitch for little over a minute when he gave the visitors the lead. Oakes made a fine save in turning a cross-shot from Tyrone Mears behind after a deflection off Joleon. But, from McKenna's corner, Oakes came and flapped and Etuhu rose unchallenged to head home. Nayls took a knock in the collision before Etuhu jumped.
Some shots at both ends but neither keeper was particularly bothered, but then Preston nearly took a decisive lead in the 57th minute. Jones again ran in from the left and hit a fierce shot that cannoned off the left hand post with Oakes stranded. The ball was cleared to Anderton who passed to Kenny. Kenny accelerated over the half way line and passed it to Seol on the right wing. Instead of waiting to be tackled by two players as he had been doing Seol went on a run and then passed a terrific ball on to the edge of the six yard box. Vio got past the defender and hooked a perfect volley past Nash. Vio, ever popular with the Wolves fans, wanted to celebrate with them so jumped the barrier, stood on the wall and launched himself into the 4th row of the North Bank for which, of course, he was booked. His game improved dramatically - he could now hold the ball up and lay it off for others and he looked ready to win it for us. Unfortunately it was not to be as he tackled McKenna (with Anderton's help) and referee Kettle decided it warranted a second yellow and Vio was off. Hoddle said that's what cost us the game - and we might indeed have gone on to win. But it was really a lack of imagination apart from flashes from Kenny and Seol, and poor goalkeeping that were as much to blame. Substitutions bringing Seyi and Leon on made no impact - Leon got no service even though he was playing at number 9. The team did well to hang on with 10 men, but didn't look like going on to win. Obviously man-of-the-match Gabor Gyepes had had enough with his colleagues when in the 90th he set off on a run from his own area and made it through to Preston's before being tackled, but there was noone to help him out and the match fizzled out.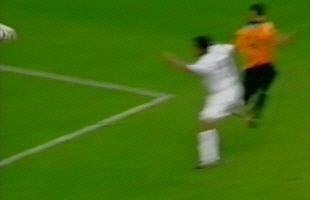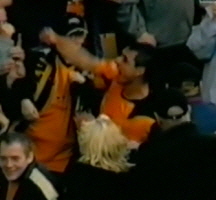 TEAMS: Wolves: Oakes, Edwards, Naylor, Anderton (Olofinjana 75), Lescott, Gyepes, Kennedy (capt), Davies (Cameron 75), Miller, Ganea, Seol (Clarke 85).Unused subs: Craddock, Postma.
Bookings: Ganea (59 - over-celebrating after scoring), Miller (76 - dissent). Sending-Off: Ganea (70 - second bookable offence - foul).
Preston: Nash, Alexander, Hill, Davis, Jones, Agyemang, Mears, McKenna, Lucketti (capt) (Mawene 20), Neal (Sedgwick 78), Nowland (Etuhu 44). Unused subs: Dichio, Ward.
Bookings: Davis (62 - foul), Neal (78 - time-wasting).
Scoring: Vio 5+2 for the goal and 1 for the celebration -1 for the sending off = 7
Kenny 6 Seol 6 (much improved - 25% of the time he hit the first time ball instead of waiting to be caught by two players) Anderton 6 Davies 7 Kennedy 6 Edwards 5 Joleon 7 Gyepes 7 Naylor 6 - really must let Anderton take the corners Oakes 4.5 - clearly at fault again for coming and missing the goal, no shouts to the players and putting us under more pressure. But a great save off a near own goal from Joleon. Unfortunately Postma isn't a great replacement. Mickey 5 Leon 5 (but didn't get any service) Olofinjana 3 (No impact when he came on)

Referee: T. Kettle. Attendance: 22,80
Tue 18th WW 1 (Miller 6) Derby County 1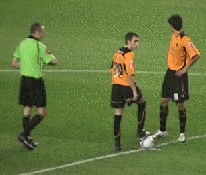 N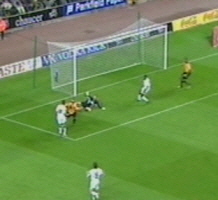 ot a great evening in the rain at Molineux after a stirring start and a great through ball from Nayls and then some very clever footwork from Kenny. On Mark Davies first full match debut - lowlighted by a crunching tackle on Idiakez and a yellow card - we created 17 goal attempts - although only 7 were on target and most came in the first half. But poor ball control, notably by Cort and Seol, stopped us taking advantage. Kenny could have finished it off late in the second half with run on goal from a great knock down by Cort and then with an attempted scissors kick frm a Sparky cross and another Cort knock down. Cort had plenty of opportunity too in the first half to have put the game beyong Derby's reach but his heading was woefully off target.
Mark's tackle on Idiakez earns yellow - and Idiakez looks to see who it was who tackled him...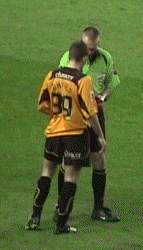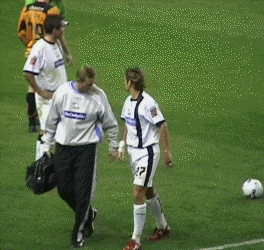 And we must again question the tactics which keep the two out of three strikers pinned to the wings when it's only when they cut in field that we look like scoring. Anderton was impressive until he was clattered. Glenn kept him on for 15 minutes too long. Mark had a good debut with some telling attacks but typically faded in and out of the game. Sparky covered twice as much ground as everyone else but it was the back two, coupled with some fine saves from Oakes who again were men of the match. Gabor Gyepes was outstanding in the first half, covering Derby's aggressive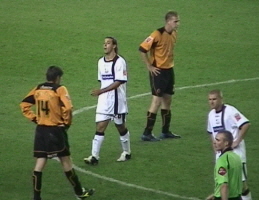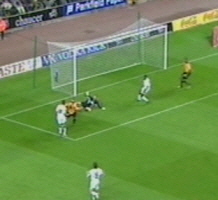 Kenny looked very lively from the start and when Nayls slipped the ball through to him in the inside left position in the 5th minute Kenny headed straight for goal - 1:0 and the goal feast was promised. But that was it until the restart. Nothing could have convinced Derby that they were going to lose this. Kennedy made a poor header back, a Derby player pounced on it. His pass was deflected off a Wolves player and Derby's El Hamdaoui pounced on it.1-1. It looked for a long time then that both sides had settled for a draw which upset the Molineux crowd.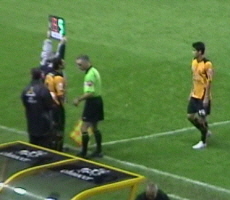 On the hour mark Vio's warm-up was interrupted by Glenn calling him on. Fearing again that Glenn was going to take our best striker the South Bank set up a chorus of "there's only one Kenny Miller" but it was the useless Seol who had consistently tried to beat two players when one was already beaten was so far off the pace of the game .... but still better than the last time he played. And in the end we went to to 4-2-4 with Leon coming on for Sicknote. Vio twice could have been in trouble for lunges at Poole in the Derby goal - a habit he must get out of. He had one opporunity but is beginning to look stronger.
Overall we can thank Oakes Lescott and Gyepes for this not being another very poor home defeat.
Wolves: Oakes 7, Edwards 5, Naylor 6, Anderton7 (Clarke 84 4), Lescott 7, Gyepes 8, Kennedy (capt) 6, Davies 6, Miller 7, Cort 4, Seol 4 (Ganea 61 5).Unused subs: Craddock, Cameron, Postma. Booking: Davies (19 - foul).
Derby County: Poole, Kenna (capt), M. Johnson, Nyatanga, Whittingham, Bisgaard (Tudgay 74), Idiakas, Peschisolido (Jackson 61), El Hamdaoui (John 61), S. Johnson, Smith. Unused subs: Camp, Doyle.
Booking: Bisgaard (32 -foul). Referee: M. Thorpe. Attendance: 22,914.
Sat 15th October Sheffield Utd 1 WW 0
When is this not a penalty referee? Couldn't you see it?#@~!!...(thanks to Pete @ Telford Wolves for photo)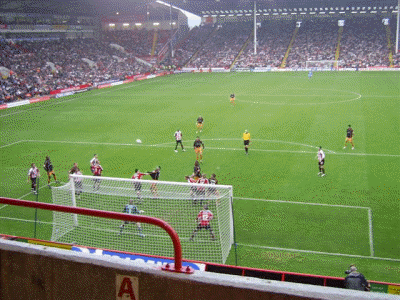 The team seemed to be lost - not understanding the formation they were playing. After only 12 matches the Blades had an 11 point lead over us, but their excellent run came to an end at second placed Reading two weeks ago where they should have had goalkeeper Paddy Kenny send off and ineligible for this match. Glenn claimed not to be surprised by where United are as a strong challenger for promotion.
First start for a long time for Jody Craddock - presumably because Gabor Gyepes played twice for Hungary. Ricketts also dropped and Seyi George started. Line up then is Rob Edwards, Joleon Lescott, Jody Craddock, Lee Naylor, midfield Olofinjana, Seol, Cameron, Kennedy, Miller and Cort up front. Anderton Postma Davies Gyepes on the bench
Neil Warnock looked forward to "a cracking game" and reckoned we're better away from home. "We need to mark Lescott at set pieces!" Glenn said we're away again after an international break, but we're changing our preparation to try and get the result. Sheffield are a good side but aren't motorways away from us. This will be an open game of football.

Sheffield defended their Kop end in the first half. First attack went down the left with Kenny, but quickly back to Oakes. Cameron and Seol on the right. A Kabba attack went for a goal kick. On the next attack Kenny was penalised for a push, but it was a high punt from Craddock - back to the long ball then! The defence backed off Quinn who got a shot in and Oakes had to make a good save. Nayls marking Ifill was leaving a gap on the left. Free kick delivery into the box was kicked away by Nayls. The next attack and Kennedy was given the run around by Ifill but a late tackle meant another free kick. Oakes punched instead of catching so the Blades attack again, but the attempted cross went over the bar.Cameron lost the ball and brought down Kabba, then Olofinjan gave it straight to Kabba but Craddock brought him down for another free kick. Kenny tracked back to spoil Unsworth's run but conceded a corner. Jody blocked that for another corner. Last gasp defending for the first 10 minutes and Seol so far hadn't even touched the ball. That brought Glenn down from the directors' box. Then a run from Craddock who passed out to Seol and a centre went through to Paddy Kenny when Seol could have shot from 25 yards.
Sheffield seemed to have acres of space to play in on the left hand side. Joleon nearly conceded an own goal but it went for a corner. Morgan headed the corner back for Neil Shipperly to head home and we were one nil down on 15 minutes. Kenny got our first chance skipping past a man, but from 25 yards it's a weak shot for Paddy Kenny to gather. Another chance for Kenny which the GK gets. Seol is brought down and Wolves had a set piece on the right hand side. Jo came up to try to emulate his feats of last season but it was easily dealt with.
At last a corner after a free kick taken quickly - Kenny's cross to Seol was cleared. Naylor took the corner and Cort challenged Paddy Kenny who reacted badly but the ref took no action. Commentary still couldn't understand why we're playing a lone striker - only by 27 minutes it was Cort on the left covering Nayls. Then a Kabba shot got through Rob Edwards and Oakes saved. Lescott hacked down Kozluk and was booked just after Kenny nearly got booking. Ball back down the other end and Kozluk's shot went over the bar. A brief flash of Wolves attack was ended with Rob backing out of a challenge and Sheffield back on the attack.
A ball from Olofinjana to Carl into Carl Cort and Unsworth takes him down from behind - no penalty. Seol lost a 50:50 challenge (again) and United attacked and Kabba hit the post as Oakes can't reach a soft shot, and Jody cleared. Olofinjana then off the.rought Kabba down again. Olofinjana put the ball through, Seol to the byline - Paddy Kenny raced out of the goal and Seol got the ball over towards Cort for a tap in but Kozluk intercepted. Olofinjana has a late shot.

Second Half
Darren Anderton replaced Olofinjana. Seol looked brighter and a cross/shot hit the bar in the 4th minute. High ball into the centre which Cort won but there was no one there to pick it up. Nayls took a shot which went well wide. Seol lost the ball - again - claiming his shirt was pulled - and Craddock had to make a very good interception
A huge 50 yard cross from Anderton but Nayls was a bit slow Then a Gillespie cross finds Kabba completely unmarked in the 6 yard box, but his shot goes wide Nayls cross and Jo just wide.
George Ndah came on for Kenny. The substitution was booed by both sets of players. Mark Davies came on for Cameron Why take Kenny off - why not Seol? No pat on the back for Kenny from Hoddle. Don't expect him to stop negotiating a new club from January!
Kabba beat Craddock easily but he got back and his sliding tackle in the box had to be spot on - gives away the corner Chance of a breakout but Sparky's pass didn't go to Mark Davies. Cross from Nayls to Cort to Mark back out to Rob Edwards and his cross is knocked over the bar by The corner came in and Rob was bundled over but again no pen. Sparky on a run is tripped 26 yards out in the inside right position. Jo and Jody up but Kozluk headed clear as Nayls beat the wall.
Sheffield seen to be tiring tiring. Wolves had a great chance made by Mark Davies - but an unmarked Cort goes for the spectacular and misses over the bar.
Seol's errors and participation still not improved. Nayls brought down by Morgan who is booked. From the free kick by Anderton Cort got a touch but it went wide. Sheffield have a late chance but it's all over.
United: Kenny, Bromby, Morgan (capt), Jagielka, Ifill (Gillespie 60), Shipperley (Pericard 90), Kabba (Webber 83), Quinn, Kozluk, Montgomery, Unsworth. Unused subs: Tonge, Geary.
Booking: Morgan (88 - foul).
Wolves: Oakes, Edwards, Naylor, Olofinjana (Anderton 45), Lescott, Craddock, Kennedy (capt), Cameron (Davies 66), Miller (Ndah 66), Cort, Seol. Unused subs: Gyepes, Postma.
Booking: Lescott (34 - foul).
Referee: R. Beeby. Attendance: 25,533