Welcome to the Wolverhampton Wanderers London Supporters Club Website Contacts here Membership details here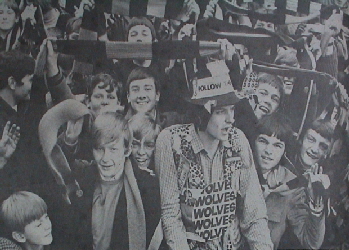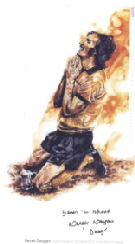 This cutting from the 60's is a 1967 shot of the WWLSC chairman in full dress with Robert Goddard, Dave Slade Slape, Willie Waldron, Sid Green, Martin Duckett, Dave Bell Chris Stonnell and other WWLSC fans in Molineux's North Bank. The article At Home? That's Quite a Trip published 31st Jan 1968 read:
There are plenty of football fans who are keen enough to follow their favourite football team through every match, home or away, throughout the season. But few for whom a home match means a journey over over 100 miles! Every Saturday a group of 35 lads board a train to travel throughout the country to follow the Wolves Founded halfway through last football season, the team's London Fan Club spare no expense to follow their idols and have been known to spend up to £8 to go to one match. For each home match the group have a specially allocated corner in the North Bank at Molineux, and the picture shows Stuart Earl of Treville St London SW15 surrounded by the rest of the fans at a recent home game. Why do they go to such great expense to to follow Wolves in preference to one of the top London clubs? "Because we think Wolves are the best team in the first division" said Stuart. He added that the club was only going through a bad spell at present, and the fans were confident Wolves would be back on top form very soon.
Our first recorded member match though goes back a bit further when George Vincent went to the 8-3 thrashing of Chelsea in 1946 and the following year the 26th April - WW 6 Chelsea 4!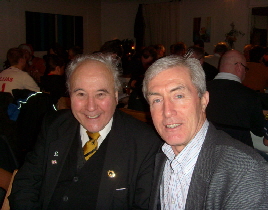 .

The London Wolves Football team of 1977 (youtube link from Louis Růmulo )

Back row L:R Rob Coleman,Tim Maher, John Engleman, Ray Stock, Colin Cutts, Peter Coath, Terry Peachey, Martin Rutherford, John Saville, Reg Bartley, Ray Harris, Mark Feehan Front row L:R Steve Roe, Tony Roche, Ivan Gillespie, Gerry Hirth, Bob Tyler, Mel Marston
Photo: Mike Woodward of the Daily Mirror.


and 50 years on from Dave Slape's first trip he was presented with an anniversary cake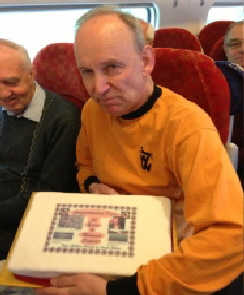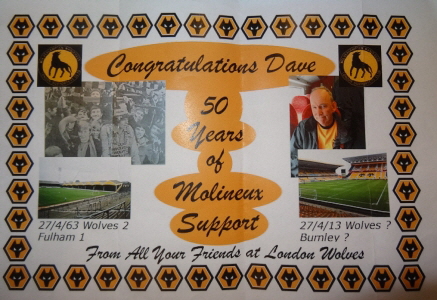 About London Wolves:
Founded in 1966, and the longest established Wolves Supporters' Club, when several members got together on the train to Wolverhampton, we are still helping our over 300 members with reduced rate travel - our first coach was 22nd October 1966 to the home win against Plymouth. We are looking forward to celebrating 45 years of supporting Wolverhampton Wanderers Football Club - "THE WOLVES" - in 2011. Details here If you are a Wolves fan based in the South of England (or anywhere else - we have members all over the world!) why not join us? Benefits of membership include:
Reduced rate travel to home and away matches
Access to tickets
A regular newsletter
Good company, especially travelling to home and away matches
London Wolves merchandise
Regular events
Latest Travel news is on the Travel page
Latest Wolves news on "Garry's News" & Match Reports & pix are on the News /matches page
For the Honved 1954 story click here
The teams for that first official LW match match a 2-1 win with Ernie Hunt and Dave Woodfield scoring.


This article congratulating London Wolves on their support of the Wolves appears in the January 8th 2005 Sporting Star (the pink pages) following Wolves' win over Millwall in the FA Cup. John presents a regular "fan's eye view" in the Sporting Star - which used to be published at 5:30 on Saturdays and available on-line Sunday morning. Details of how to subscribe to the Digital edition of the E&S follow the article.....

this article is Express & Star Newspapers' copyright. You can also get the full newspaper every day (or on the evening following matches if you don't want them all) Monday to Friday from about 5.30pm here: http://www.expressand

star.co.uk/es/aboutus/subscriptions/digital/index.shtml and click on Buy Now->

Contact us: londonwolves.66@btinternet.com
Webmaster: webmaster@londonwolves.com