Y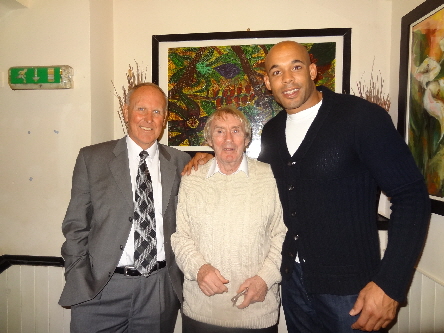 et another brilliant day for London Wolves thanks to Roy and Ruth Eagles; Roy probably arran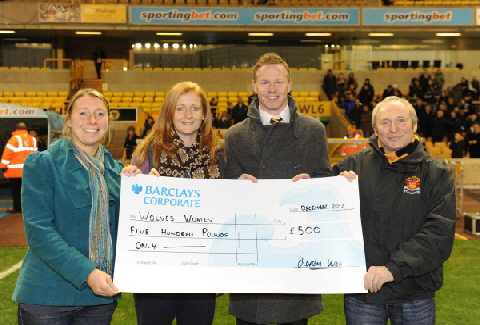 ged the Marlon King o.g. to give us three points
Players old and new, a double winning Wolves Captain (Anna Perks), our 12-16 coach, a promotion winning manager who was also a fan and played for Wolves - the lovely Graham Hawkins, a surprise visit by our former player of the year Matt Murray, our supporters' liason office Paul Richards and our favourite all time winger and now hall-of-famer Waggy
At the Christmas Lunch it was announced that London Wolves will be sponsoring the Wolves Ladies' team this year. Following our sponsorship of Amber Quick last season, the AGM suggested that we should extend our sponsorship to the whole team. We were delighted to welcome Amber, and team captain Anna Perks (the only League and Cup double winning Wolves Captain!) as well as Chairperson Jenny Wilkes and committee member Pete Myatt to the Christmas lunch. Jenny and Peter "credited" John Richards for their contributions to the growth of the team. Our sympathy went to Amber's boyfriend whose birthday it was, but he been taken ill. After an athlete's meal of Bangers and Mash (a City Bar speciality) perhaps it's just as well that the game the following day at Sheffield was called off! Our thanks also to Eileen Burrell of the Wolves Community Trust for making the arrangements for the presentation and for the sponsorship arrangements.
What superlatives can you think of for Roy Eagles' brilliant organisation of our annual Christmas Lunch. Again he surpassed himself with a carefully planned spectrum of the total Wolves Community – Wolves-Aye-We. Representing the club, Paul Richards, the fans' liaison officer, told us how morale is still very high at the club; while youth team coach Darren Ryan told us how he'd been delighted to join the club and help develop the young players from 12-16. In support of the sponsorship chairperson Jenny Wilkes gave a wonderful talk about how and when the wolves women were formed and how they have progressed over the years. Hall of famer Dave Waggy Wagstaffe and Val were our guests of honour and we were delighted by a surprise visit by our one-time player of the season Matt Murray. Roy also thanked Lawson and his staff for making it such a great afternoon.
Some pictures from the lunch are on the Facebook page. Click here to see additional pictures of speaker and the raffle winners click here.