Here and now at Molineux: is 2017 the new '72?
Although the upper echelon of the second tier has been nothing especially new to Wolves in the past fifteen years, there is a distinct feeling of revolution in the air at Molineux. Always a very traditional club, which even today conjures images of Mick McCarthy bellowing Wolves to safety in the early 2010s, the presence of Nuno Espírito Santo on the touchline is new territory – but hugely welcome, given Wolves' lofty current position. As reported by BBC Sport, Wolves retained their position at the top of the table after a 3-2 win against Preston North End on 21 October. While the Molineux faithful has every right to feel excited about the immediate future, parallels with the greatest Wolves teams of old must be established if such excitement is to be justified. Given the newfound Mediterranean influence at Wolves, no squad is worthier of such analysis than the side that came close to winning the UEFA Cup in 1972.
7 March 1972: WOLVES 2-1 JUVENTUS – Derek Dougan scored the killer goal in Wolves' second leg quarter-final win over Juventus in the 1971-72 UEFA Cup campaign. Today, Léo Bonatini is showing similar mastery in the final third for Wolves.
So near, yet so far
Back in 1971, the UEFA Cup was a brand new tournament, replacing the Inter-Cities Fairs Cup, and at that time, no less than five league qualification spots were offered to English teams. After a finish of 4th, Wolves under Bill McGarry were one of those teams. After easy aggregate victories over Académica de Coimbra, Den Haag and Carl Zeiss Jena, the quarterfinals took Wolves to Turin for a glamour tie with Juventus. As predicted, it was a tough slog for Wolves. However, the 1-1 draw gained on the night of 7 March 1972 has gone down in history as one of the most resilient showings in Wolves' entire history. After a 2-1 win over the Italian giants at Molineux, Wolves faced Ferencvaros in the semifinals and triumphed 4-3 on aggregate. Though Wolves would fall narrowly short in what was then a two-legged final, the squad had performed as an effective unit that would form a gold-standard blueprint for Wolves in the generations to come.
The Black and Gold Standard
Though subsequent generations have not always flown the black and gold flag well, those elements are certainly prevalent in the current squad to a notable degree. For any Wolves fans that still have doubts about Nuno Espírito Santo's transfer policy, a recent Betway article entitled "The Art of Making Deals" makes for enlightening reading. Detailed within are the trials and tribulations of the transfer process, and it is here that the difficulties Santo has faced in coordinating his glut of foreign signings, to table-topping effect, become apparent. Although an opting for an influx of foreign signings is a bold move, there is always a risk of playing styles clashing, especially if the players are unfamiliar with one another. As shown on UEFA reports of Wolves' UEFA Cup campaign of 71/72, the Wolves squad that stormed through the competition that year never changed, enabling the side to capitalise on the mutual familiarity they enjoyed.
If the desired degree of mutual familiarity is not an option, natural skill and high work rates are also an obvious key to success within any successful squad. The Wolves team of 1972 had those elements in abundance too, with John McAlle and and Kenny Hibbitt pulling the strings in midfield. Unlike that duo, Santo's marquee signing of the summer, Ruben Neves, plays in a more advanced position in the centre of the park and brings continental flair. However, that same work rate is prevalent in Ruben Neves, acting as an effective middleman between deeper midfield and the final third. The absence of a language barrier, between himself and loanee front man Léo Bonatini, is also a vital ingredient. Wolves' presence at the top of the table would be short-lived without a consistent striker with the same reliability as Derek Dougan. He scored successively in the first four games of Wolves' UEFA Cup campaign, and is, pragmatically speaking, the very reason that Wolves reached the 1972 final. In Bonatini, the Wolves squad of today has a striker with a similar level of consistency to Dougan. Thus far, the Brazilian has struck seven times in twelve appearances for Wolves, representing a continuation of the good form he has shown in spells at Estoril and Al-Hilal.
Tellingly, he has also improved on his goal average each time he has moved between clubs: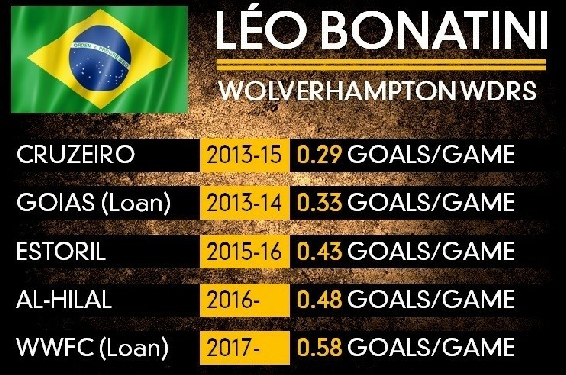 [Original Image] Correct as of 24 October 2017
Winging it
Similarities with the squad of 1972 also extend to the flanks. Forty-five years ago, captain and winger Jim McCalliog led by example with a number of vital goals in the face of more celebrated opponents, doing so from the wing. So too did Dave Wagstaffe on the opposite flank, and today, a similar pattern is emerging. Since arriving at Wolves last year, Ivan Cavaleiro has netted six goals from wide and settled well, proving that talents from the continent can survive a gruelling 46-game English campaign. Ultimately, with a glut of new, non-British players coming to Molineux during the summer, Wolves can also surprise the opposition with a mix of styles. Although the presence of multiple loan signings does not always make for a happy ending, it is clear to see that Santo has chosen his personnel wisely as Wolves aspire to once more reach the Premier League.