We offer discounted travel and match tickets from London to home and away Wolves matches + social events. To join us click here
50th Anniversary event is 16th July 2016
Fundraising for the 50th has started here
Stuart has announced a competition to design the badge/logo for the 50th Anniversary
Travel is updated to November travel
WWLSC July 2014 Newsletter is now here
WWLSC Next events: Contact Roy to book for social events. Email
Roy's famous annual Xmas lunch in the Blue Brick Dec 6th before the Cherries match at 11:30 for 12pm
Click here for the menu & ordering info
Marston's Brewery tour 4-6pm before the Middlesborough match 21st October. Visit moved to February (v Fulham) Contact Roy to book
Old Gold Glory - a new fanzine details here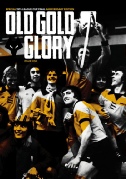 New book: competition here WIINER BOB RICHARDS - a copy of "Dirty Northern B*st*rds and Other Tales from the Terraces" book details and ordering
New Book: Wolves fan seeking memories of the Sherpa Van Final contact Tim Gibbons at sherpawolves@outlook.com
Pu

tney boat - cancelled.
Head of the River crawl (pre Oxford) here
London Wolves Walk Saturday July 5th - what the Dickens did Geoff get up to? Pictures are here


AGM Saturday 12th July Brockley map 3pm-7pm
Minutes will be here soon
Roy and WWLSC fundraising with the famous London Wolves pens - 1 guest pair paid for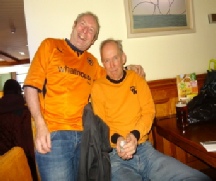 Thursday 21st August John Hartson charity dinner at the Mount Hotel -
Frank's for the Memory by Waggy - order now details here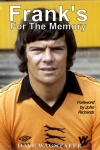 Recent events
Latest event: Pre-Carlisle lunch at the BlueBrick at 12 noon. then .. End of season dinner in Sir Jack's at Molineux after Carlisle match + Northern Blues & Motown music at Bradmore Social club. ... plus -Monday 5th for Jody Craddock's testimonial at Molineux
Madame Treasurer & Val in the Bluebrick
Retired water man steals the trophy as Wolves seal record breaking season with 103 points and 3-0 v Cumbrians - more @abbswolf here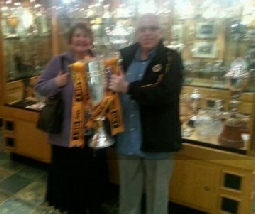 WWLSC 50th Anniversary Dinner 2016
Roy has already raised enough to support the first players' table thanks to everyone who now possesses the gold London Wolves pen - so you have all contributed to this first table. Thanks and here's secretary Dave taking the £££
WWLSC support WW Women FC travel
MKDons HT: Mark F & Peter W presented our cheque to Wolves Women captain Anna Perks and star player Leanne Rimmer ably assisted by Wolves midfielder Lee Evans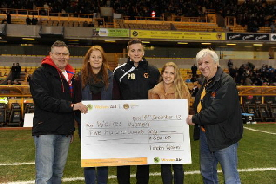 In memory of member Stuart Hatwell who died on February 3rd. He is pictured here with his brother Keith and Wolves midfielder Seyi George Olofinjana at the Meet the Players in 2005 before the 2-1 win over Reading (Leon scored!). Stuart and Keith have been WWFC fans since the 1950s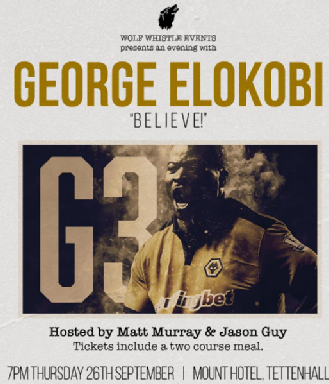 It's Dave's 50th anniversary of tr
avelling up to Molineux -the lads on the train presented him with a cake
pic Mark F
PLEASE READ IMPORTANT MESSAGE ABOUT EUSTON on the travel page here
A message from the Chairman:Members are reminded that while they are traveling, at the match, on the way, especially on the train, or even in the pub home or away they are seen to be representing both Wolves and London Wolves at all times, and are expected to behave appropriately. Complaints have been made about bad language on the train in front of other passengers. London Wolves support the Club's campaign to cut out bad language in the family areas and expect that to be respected and will take action under rule 5 if it is not.
Marriages:
Rachel & Olly more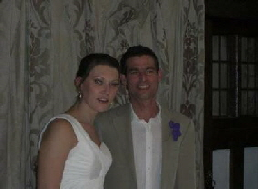 here
Welcome to the London Wolves site
Many pictures and match reports from 2003 to 2013 have been moved to the archive site click here
The events/newsflash/travel section above can be advanced / held using the scroll / pause buttons top left.
Comments are always welcome
Webmaster@LondonWolves,com
Ther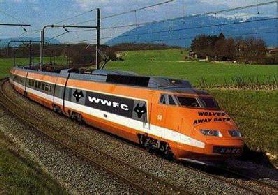 e are more details and contact information on Peter's Travel page




Xmas lunch menu & ordering info
U21 go down to Derby but Mark and John catch up with Paul Simpson now coach at Derby County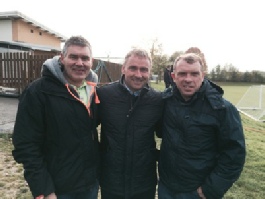 Lee Evans picked along with Sam Ricketts in Wales squad but injured
Alfie - Pam Tetlow's grandson was the mascot at Craven Cottage (pic from Rob Goddard) for the 1-0 away win (Sako)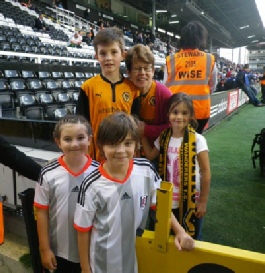 1st team
Fri July 11th @ Cheltenham Town W 2:1

Mon July 14th @ Shamrock Rovers won 4:1

Wed 16th July @ Bohs won 3:1 Clarke 2, Dicko; Leon Clarke scores 4 in 4 halves.

Tue 22nd July v Peterborough 2-2

Sat 26th July v Crewe 0-1 Dicko

Tue 29th July v Oxford Utd 0 - 1 Clarke rpt

Sat 2nd August v Celta Vigo (home)
U21/Development squad
Telford Tue July 22nd 1-1
Margate Fri July 25th lost 5-1
Wolves Allstars Fixtures
WWLSC events - see right hand column
League 1 Champions 2013-1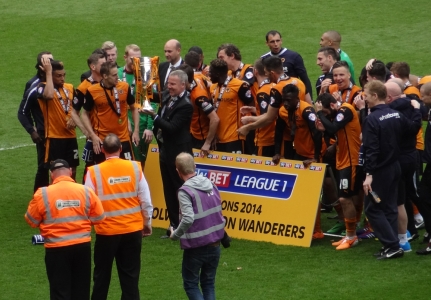 4 and promotion
celebration at Gresty Road - pitch invasion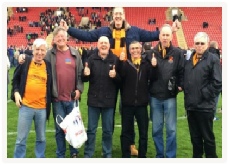 .
2014-15 fixtures
summary
full+results
Blues Derby & Watford move for Sky
U21 fixtures here U18 fixtures here
Results
P12 W6 D4 L2 Pos 7

th
Transfer news


14 Leeds Utd 1 WW 2 Leon at last
13 WW 2 Boro 2 George gets too Friendly 2-0
12 Millwall 3 WW 3 Lionstamed then released 3-3
11 WW 2 Wigan 2 Duracell Dave destined to score
10 WW 1 Huddersfield 3 missed chance to go top.
09 Reading 3 WW 3 Royals thriller
08 Wolves 1 Bolton 0 Trotters Pen save from Carl Ikeme (view in news scroll above)/ here
06 Blackpool 0 WW 0 report
05 WW 3 Blackburn R 1 report
04 WW 1 Cardiff 0 report
03 Fulham 0 WW 1 report
02 Rotherham 1 WW 0 (63% possess) report
C1C1 WW 2 Cobblers 3
report
01 WW 1 Norwich 0
report


Transfer News
Ins: Confirmed
Yannick Sagbo in from Hull #12 here
George Swan (defender) Man C here
George Saville in from Chelski #8 here
Super Carl Ikeme signs for 3 yrs here
Stears signs for two more years here
Dave Edwards - two more years here
Tommy Rowe here
Barca's Jordi Ortega & Alberto Torras here
Ins: Speculation


Outs
Loan list (end of 2013-14)
Georg Margreitter (D) to FC Copenhagen

Jordan Cranston (D) to Nuneaton

Michael Ihiekwe (D) to Cheltenham

Tongo Doumbia (M) to Valenciennes

Zeli Ismail (M) to Burton

Bradley Reid (M) to Wrexham

Bjorn Bergmann Sigurdarson (F) to Molde

Razak Boukari (F) to Sochaux

Jake Cassidy (F) to Tranmere

Dominic Iorfa to Shrewsbury




FIXTURES
Aug 12

th

Capital One Cup - home to Northampton
Championship Saturday unless stated WWLSC "home" matches in

green


Sun 10 Aug 16:00 Norwich (h) W 1-0
16 Aug 15:00 Rotherham @ L 1-0
Wed 20 Aug 20:00 Fulham @ W 1-0
23 Aug 15:00 Cardiff City (h) W 1-0
30 Aug 15:00 Blackburn (h) W 3-1
13 Sep 15:00 Blackpool (a)
Tue 16 Sep 19:45 Charlton Athletic (a)
20 Sep 15:00 Bolton Wanderers (h)
Sun 28 Sep 13:15 Reading @
SKY
Wed 1

st

Oct

19:45 Huddersfield Tn (h)
04 Oct 15:00 Wigan Athletic (h)
18 Oct 15:00 Millwall (a)
Tue 21 Oct 19:45 Middlesbrough (h)
25 Oct 15:00 Leeds United (a)
Sat 1 Nov 12:15 Birmingham City (h)

SKY
Tue 04 Nov 19:45 Ipswich Town (a)
08 Nov 12:15 Derby County @
SKY
22 Nov 15:00 Nottingham Forest (h)
29 Nov 15:00 Brentford (a)
06 Dec 15:00 A.F.C. Bournemouth (h)
13 Dec 15:00 Sheffield Wednesday (a)
20 Dec 15:00 Brighton (h)
Fri 26 Dec 17:30 Watford (a)
SKY
Sun 28 Dec 15:00 Brentford (h)
10 Jan 15:00 Blackburn Rovers (a)
17 Jan 15:00 Blackpool (h)
24 Jan 15:00 Charlton Athletic (h)
31 Jan 15:00 Bolton Wanderers (a)
07 Feb 15:00 Reading (h)
Tue 10 Feb 19:45 Huddersfield Tn (a)
14 Feb 15:00 Norwich City (a)
21 Feb 15:00 Rotherham United (h)
Tue 24 Feb 19:45 Fulham (h)
28 Feb 15:00 Cardiff City (a)
Tue 03 Mar 19:45 Bournemouth (a)
07 Mar 15:00 Watford (h)
14 Mar 15:00 Brighton (a)
Tue 17 Mar 19:45 Sheffield Weds (h)
21 Mar 15:00 Derby County (h)
04 Apr 15:00 Nottingham Forest (a)
06 Apr 15:00 Leeds United (h)
11 Apr 15:00 Birmingham City (a)
Tue 14 Apr 19:45 Middlesbrough (a)
18 Apr 15:00 Ipswich Town (h)
25 Apr 15:00 Wigan Athletic (a)
02 May 15:00 Millwall (h)






Table powered by Soccerway.com