Wolverhampton Wanderers Football Club
Wolves news: for WOLVES SITE CLICK HERE
match changes Fixtures & Teams here Crawley Town rescheduled Tues 18th March 7:45 and Stevenage to Tues April 1st at 7:45pm WW at Orient Easter Monday live on Sky 12:15 ko
Wolves announce 2014-15 early bird here WW credit card offers interest free to new and exisisting cardholders details
2013-14 Matches Fixtures/Results here Allstars
Transfer window Jan 2014 here
Results:
WW 3 Port Vale 0 Nouha Dicko misses Hat Trick but helps us back to top report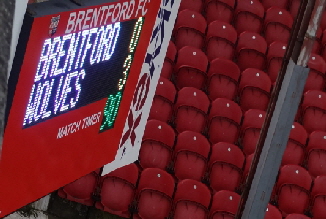 Bees 0 WW 3 another Jacobs double report
WW 2 Notts Co 0 Michael Jacobs double report Stears 150th and assist for 2nd goal
Oldham 0 WW 3 Mac starts it report
WW 3 Bristol City 1 Dicko debut star report
Crawley rained off - flooded pitch here
The Welsh take Lilywhites 2-0 Dave & Lee report
The wrong McDonald scores Gills 1 WW 0 report
Lots of pressure but just a draw at Rovers report
Brilliant first half but Os get back 1-1 report
Hard work of bottom club 2-0 v Crewe 1st in 4 report
James Henry & ref Oliver get us out of Millers jail here
Two on the trot as the franchise win 0-2 report
First away loss of the season at Posh report
Top again after comfortable win Tranmere report
Much improved but Bees take a point. report
Out of the Cup but not up for it WW 1 Oldham 2 rpt
Ebanks-Landell takes Wolves top 1-0 at County here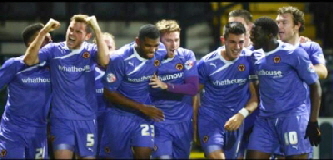 Oldham held 'em 1-1 FAC 1st round. Replay 19th November 7:45 at Moli. If we get through next it's Mansfield at home w/e 7th/8th December report
Carlisle break the run after Sako starter 2-2 report
WW 2 Stevenage 0 again Henry & Ikeme star report
Bantams 1 WW 2 Henry & Ikeme star report
WW 2 Oldham 0 Abbswolf on at half time report
WW 1 SkyBlues 1 Davis foul gifts equaliser report and LeighG goal video here
JPT2 WW 0 Notts Co 0 1-3 woeful pens
U21 Asnl 2 WW 1 click on pic for report
Us 0 WW 3 #9x2 Doyler; Henry 3 assists report
WW 2 Blades 0 #9, Sako Jack Price star debut report
GT's Shrews 0 WW 1 Sako pen report
Wolves 0 Walsall 1 report
Wolves 3 Swindon Town 2 report
L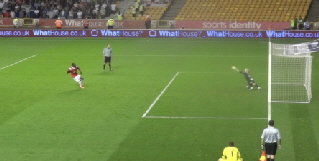 Liam scores and Aaron saves on debut - WW 6 Walsall 4 - report & pens here
#9, Siggy & Kev - 3-1 at the Vale report
YouTube - goals crowd FF @WolvesFanVideos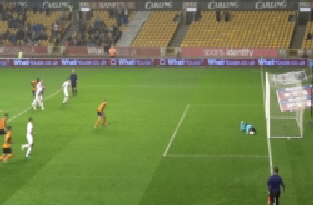 WW 2 Crawley Town 1 squeaky time report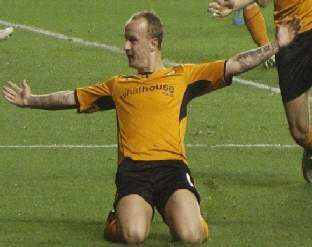 Bristol City 1 WW 2 up to third here
Wolves 4 Gills 0 Great start to home campaign here
Morecambe 1 WW 0 Danny Batth capt; Doyler back
Crawley live on Sky Friday 23 Aug 7:45pm
It's Walsall @ Molineux in the JPT Tue Sep3
Kortney Hause in from ww.
Leon Clarke returns 18 mth deal £750k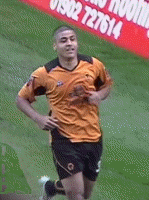 Doyler on loan to QPR (scores on debut)
Wayne to Palace £3m 3.5yr deal
Sigurdarson's gone Molde
#9 to Celtic who'll get the number?
Transfer Rumours: transfer day transfers
Ins: Kevin McDonald from Blades 3yrs
Sam Ricketts signs from Bolton as new Wolves captain. article
Scott Golbourne left back (Barnsley)
Bradley Reid (forward) Wrexham
James Henry (winger) from Millwall
outs on transfers page
PSFs
East Fife 2 Wolves 3 (Siggy, Leigh, Tongo)
Livingston 1 WW 2 (og, Davis) HERE
Wrexham 1 WW 2 (Cassidy, Griffiths) HERE
Chesterfield 1 WW 2 (Edwards, Griffiths)
WW 2 (Stears, Griffiths) Real Betis 3 here
WOLVES new 2013-14 shirts - including the new Allstars shirt soon to be worn by Jody Craddock LEIGH GRIFFITHS IS WW Number 9 here



Previous material & links:
Wolves Allstars click here
Wolves fixtures for the 2012-13 season started at Leeds United (Sky)and finish in Brighton here
npower fixtures here
npower Championship table: click here
Watch Steve Morgan interview
Squad numbers here
Molineux redevelopment here
Really old Molineux here
find Wolves on tv LocateTV
Wolves site
Wolves results fixtures/results tabs for more info
powered by Soccerway.com
Our Allstars page is here
Wolves Allstars homesite is here
A new site is being set up here
Follow them on Twitter here
Congratulations to Wolves' John Hendley for Matchday Magazine of the year! click here
Fans Parliament minutes are available here