The London Wolves Naked Ladies Walk, Saturday 29th June 2019.
A Twickenham Trek featuring a number of naked ladies*
Yes, its that time of year again when the London Wolves take in some culture ........ washed down with copious amounts of alcohol!
This year it is the turn of Twickenham to entertain the hoards of followers who normally attend the famous London Wolves walks. Home of England rugby, numerous poets and artists, the footballer of Loos, Eel Pie Island (a former famous rock venue), the inventor of the clockwork radio and, of course, those famous naked ladies, Twickenham is well worth a visit. Wonder at the beauty of Strawberry Hill House - an 18th century gothic castle - and Marble Hill House and gardens (built for Henrietta Howard the mistress of George the second) before moving swiftly onto the next pub!
So, if you have been tantalised or at all tempted by the delights of Twickenham, grab your sun cream and mankini/bikini - I know I will be bringing mine (the sun cream that is) - and head down to "The William Webb Ellis" Wetherspoons pub at 24 London Road Twickenham TW1 3RR for an 11-30 start on Saturday 29th June. The WWE is just 6 minutes walk from the mainline Station (turn left, past Waitrose, and the pub is what suspiciously looks like a bank)
Twickenham can be reached by frequent trains from Waterloo or by District Line/North London line to Richmond and a short mainline hop to Twickers.
* although before you get too excited guys, Geoff would like to point out that the ladies comprise of a few nymphs made of marble, or a beer with a luscious aroma!
Cheers,
Geoff.
Address The William Webb Ellis" Wetherspoons pub at 24 London Road Twickenham TW1 3RR for 11-30 google maps
members and friends will gather at Twickers for Geoff's latest Tour de Force.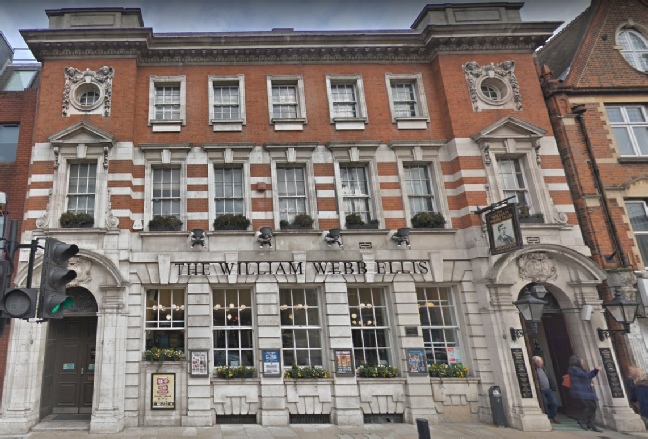 Now to the Antelope Tardis - huge pub with small frontage
No
I