London Wolves 5 5th,
, one year late
Anniversary Dinner
1966-2022
Our 5 5th Anniversary Dinner (one year late) was at Charlton Athletic FC 1905 Suite (West Stand), The Valley, Floyd Road, London SE7 8B on Saturday 16th July. A great time was had by all at the slightly delayed (one year late) 55th Anniversary dinner.
The much revamped lounge at the Valley was matched by an excellent dinner.
Stuart thanked all the members and guests who came, and a warm welcome was given to some very special guests. More pictures here
Johnny Phillips article in the Express and Star here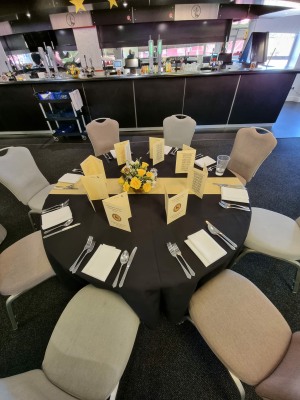 The meeting kicked off with our World Wide Wolves video (as on the homepage) to celebrate our hat trick of wins as WWW UK Supporters' Club of the Year, and brought messages from Wolves Captains Conor Coady and Anna Price who also expressed the Wolves thanks for our support over the decades.

Click on Conor image to play

Click on Anna image to play
Jason Guy kindly compèred the evening, adding a spark to the evening introducing our visiting guests and later asked the players to comment on some of their special achievements, such as Jim McCalliog on captaining Wolves in the UEFA final.
Some great food and music from Dave Hodges, helped the evening along very well but our star guests really added to everyone's enjoyment.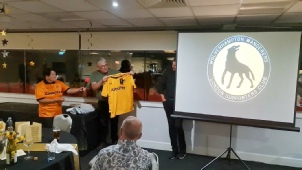 Stuart thanked Alan and Bev Perrins for undertaking a long journey to the heat of South East London from the West Country with a special thanks to Alan for his very kind and motivational words in presenting us with the first season 2022-23 shirt to arrive at Molineux to recognise our hat trick of supporters club awards.
Alan joined Wolves Director John Gough who singled out our long term support for both the men and the women teams. He also talked about the Club, commenting on the excellence of the capture of Nathan Collins but couldn't be drawn to speculate on the next signings!
The evening was compèred magnificently by Jason, introducing The Chairman, Alan and John followed by Legends Jim McCalliog (with Debbie McCalliog who insisted we showed a certain Scotsman scoring on debut against England), The Gouldfather, Mel Eves, Andy Mutch and Johnny Phillips, who all helped us to celebrate our 55th Anniversary with their customary grace and good humour.
Unfortunately Matt and Natalie Murray were unable to travel as Matt had picked up an injury from which we hope he can quickly recover.
Jim talked about captaining Wolves, expressing his sadness that Mike Bailey couldn't in those two matches, and for his current health. He said that captaining Wolves in a European final was fantastic Jim was clear that we were the better side across both legs, and was very disappointed by their goals
Bobby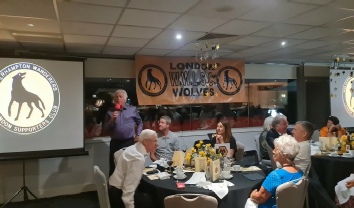 was asked about signing for Wolves twice under Bill McGarry and Sammy Chung, and how he'd travelled from Coventry to watch Wolves when he was young (instead of Villa or Leicester).
Why did he sign for West Brom asked a mischievous Jason? Answer: The signing on fee! 5% of £60,000! Bill McGarry had signed him after seeing him play in the Arsenal reserves at Peterborough.
Bobby also recalled playing for Wolves against Manchester United and revealed that Georgie Best stunned the ladies into silence when he walked into their lounge.
Mel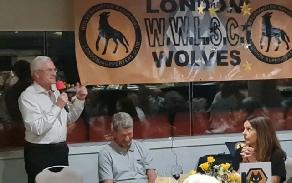 talked about being the fan on the pitch at Wembley in the League Cup final. His first visit though was in 1974, when he was a schoolboy still, a year beofre signing. Six years later though he "had a sightly better view!".
As you come out at Wembley you come out in the Wolves end and there were 60-70,000 fans there. He and George Berry said we've got to win for these lads..
It was a blessing to be able to beat the team who lifted the Euopean Cup under Brian Clough.
Andy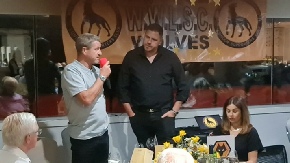 too, was overwhelmed when he saw just how many fans came to the Sherpa Van Final, and what a privilege it was to be on the coach coming down Wembley Way and echoed Mel's comments about the wall of noise they created.
And SkyJohnny also confirmed that yes, he did wear a Wolves tie when doing commentary at the Hawthorns!
For the final formal part of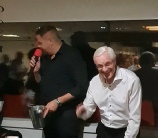 the evening Jason kept a very close eye on Mel who did the raffle draw set up by Treasurer Carol, complete with money chest. However he couldn't stop Mel from drawing a winning ticket for himself! Mel, a gentleman as always, promptly refused his prize. Some proceeds are destined for Jason's charities - he has raised a third of a million pounds so far. A great array of prizes included Jim's book, the Chairman and the Charlton fan both ended up with Molineux Way signs, while it is rumoured that Mark won a holiday Both the Travel Secretayr and Dave S were winners too!.
* Full list follows*
Our best wishes go to those members who had to call it off at the last moment due to illness, most especially also to Matt Murray who has suffered from slipped disks, underwent a lot of physio to try to join us, but was unable to travel. He and Natalie were devastated to miss the dinner. We thank Jim and Debbie for also suffering the transport delays to return to Scotland.
SPECIAL TRAVEL NEWS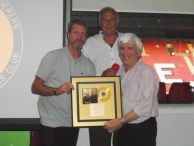 The evening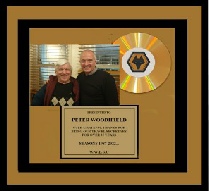 also saw a very special award. As well as celebrating 55 (+1) years we also celebrated 35 years of Peter Woodifield supporting our members as Travel Secretary and Andy Mutch with the Chairman's help presented him with his trophy, mirroring those awarded to our Players of the Season. Stuatr praised Peter's dedication to the role and his constant good humour, a thought echoed by many of our members.
Thanks also to John Engleman for transport support when the taxi went sick
And, finally, special thanks to our resident poet, Tony Hughes (with Annette's editorial oversight!) for a fine tribute to our supporters' club in memory of the members and players who have left us since our 50th anniversary.
London Wolves 55 >>> going on to 56 !!
The London Wolves are here to thrive
And despite Covid - Our love's alive
We've taken tests and worn our masks
To follow Wolves - where the fixtures ask
So London Wolves reached "Fifty Five"
Last year we kept that dream alive
We put "on hold this celebration
As Covid shook - The entire nation
Wolves "Took the knee" - We took the jabs !!
We couldn't get in trains or cabs
We stayed at home and watched the telly
While VAR turned us all to jelly !!
"Was it Right ? " or "Was it Wrong"
We all complained in grumpy songs
The Refs they now - sit on the fence
And most decisions - just don't make sense !!
But London Wolves are still so proud
Heading North - To sing out loud
We love our team - at Molineux
To watch them play - It's what we do !!
Nuno gave us - A real great start !!
He'll always be here - in our hearts
Now Bruno takes us on - with pace
Up Up the league -to a higher place ??
Let's celebrate for our "Fifty Fifth"
The London fans will never drift !!
Home or Away - We will always care
We are London Wolves - We are always there !!
Tony Hughes
In tribute to our members and players
who have sadly passed away since 2016
A full list of raffle winners managed by Carol
John Richards pictured with 1974 League Cup - Debbie McCalliog
Mike Bailey and team pictured with 1974 League Cup - Steve Carvell
Black/White picture of Billy Wright receiving the FA Cup from the Queen - Paul (Stage Door)
Black/White picture of Emlyn Hughes with 1980 League Cup - Matt Baugh
Pennant signed by Wolves team - Ray Kirby
Paul Butler shirt - Debbie McCalliog
Wolves Rugby Shirt - Peter Abbott
Alex Rae T-shirt - Simon Ivermee
Wolves T-shirt - Fred Schaske
London Wolves Fleece - Doug Law
'Keep Calm and Follow Wolves Coaster' & Championship Winners Tie - Tony Griffin
'Wolves For Life' Coaster & Wolves Tie - Helen Gough
Jim McCalliog Book - Peter Woodifield
£25 Wolves Gift Shop Card - Dave Bryan
Weekend Away Gift Card - Melanie Foote
£35 Afternoon Tea Gift Card - Heather Craigie
I Litre Bottle of Aquavit - Stevie Grist
'Molineux Road' Sign - Doug Law
Speaker - Andy Coltman
Wolves Scarf / Socks - Fred Schaske
Wolves Umbrella - Graham Arno
Silent Auction
Neil Collins signed shirt - Matt Cleverly
Romain Saiss shirt signed by Wolves Team - Mark Feehan
Steve Bull / Andy Mutch signed picture - Matt Cleverly
Ernie Hunt signed picture - Bill Singleton
Donation of £20 by Doug Law