London Wolves Annual General Meetings
Our rules require a meeting open to all paid-up members to be held at which the accounts and other business can be discussed.
2018 AGM returned to The Paternoster, venue for 2016 just behind St Paul's Cathedral (North East) visited on a Geoff Castro tour It is opposite Greyfriars Church behind St Paul's and just a few steps from St Paul's Underground station (Newgate Street side). Address is 2-4 Queens Head Passage, Paternoster Square, London, EC4M 7DZ (on the corner of QHP and Newgate St (just along from the former Newgate prison)) Dave is finalising the agenda something like
1 Apologies for absence,
2 Chairman's Address,
3 Minutes of 2017 ,
4 Matters Arising,
5 Secretary's Report,
6 Treasurer's Report,
7 Travel Sec Report,
8 Social Sec Report,
9 Newsletter Editor's Report,
10 Website Editor's Report,
11 Election of Officers,
12 Membership fee,
13 Any Other Business.
Peter Abbott will be giving an update on the Wolves Fans' Parliament
Notes on 2018 AGM meeting (these are not the minutes)

Stef chaired the meeting in Stuart's absence through illness. Stoo is undergoing treatment in St Thomas' Hospital having had a traumatic week. The meetings' best wishes were sent to him through Stef and Dave Hodges.
We were very pleased to welcome Wolves' new Supporter Liaison Officer, Alan Perrins, who, very generously had travelled up from Torquay. Alan works for Russell Jones and outlined plans for greater support to official supporters' clubs. He covered ambitious plans for Wolves goals for the future, for Molineux, and to support the fans. It looks like an exciting time ahead.
Meeting items: Several apologies including Stuart Earl, Alan Allsop, Carol and Roy
Chairman: Stef, on Stuart's behalf thanked particularly Peter W and Dave.
Secretary: membership currently 256 with members returning since the promotion to the Premier League. £3281 has been raised in subs and Dave covered other income and outgoings, of which postage was a significant element
Treasurer: Peter W presented Carol's report which showed a small surplus. Later the Wolves Women payment was questioned. Almost all monies owed are recovered.
Travel secretary. Peter ran travel to all 27 home matches and to 14 away, with special thanks to Morris and Matthew for driving some trips. 37 travellers was the peak (excluding "own way" members). Peter takes into account travel cards. He has membership numbers for current travellers. Long away trips again had subsidy. Special thanks to Dave Widdall at WWFC.
Social: Roy managed to cram 40 into the Bluebrick (the limit) for the XMAS lunch with Mel Eves and Colin Brazier. A separate lunch welcomed Wolves Ladies, and Sue and Terry Wharton graced the two additional events.
Newsletter: Steve said that he hoped to publish the summer edition before the season starts. He would welcome any thought ideas and contributions for the January edition. Costs were discussed – a printed copy costs £3.86 per copy – an extra 50 were required of the special 50th edition, but if you are happy with the pdf version instead please tell Dave.
Website: Peter B said that we have again run at a surplus of £339 with some well-placed adverts more than covering the costs. The E&S newsfeed is again working on both the mobile (phone/tablet) sites and the desktop version. Peter W's travel information updates normally go to the Jack run Facebook page first. Hopefully there will be time for a website refresh after the summer.
Committee: re-elected en masse.
After a (very nice) chip break
Membership fees: Dave raised the question of whether retired member fees should be reduced, but the meeting strongly supported no change, with a review expected next year as the 55th comes into sight.
AOB: Wolves Women sponsorship was agreed to be renewed at the current rate; volunteers to take part in a new tv programme (Football Genius) were sought. (A group is trying to form to take part); Wolves TV audio commentary will be free this season so if you can't make a match you can listen to
Thommo and Mikey Burrows on the internet. Peter Abbott is on the Parliament sub-committee for matchday experience – any ideas please contact him – as well as safe-standing. Club credit card has not yet been set up. There is a festival in West Park on the same day as the Everton match so be prepared for chaos in that area.
It was announced to a hefty round of applause that Conor Coady was our player of the season.
Meeting closed around 5:30pm.
Stuart was however "watching over us" as this picture from his hospital room showed, just along from the Hayward Gallery
Accounts 2017-18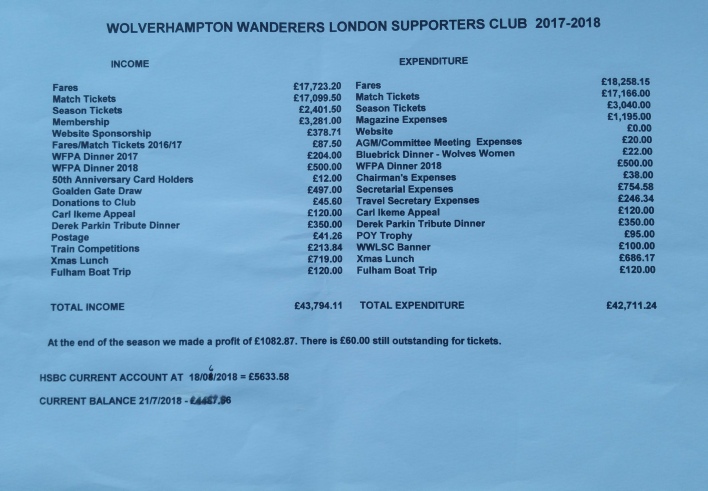 The 2017 AGM returns to the Shipwright's Arms 88 Tooley Street London SE1 2TF.(See 2015) Friday July 21st 7:30pm

MINUTES of AGM Meeting - click on Adobe icon to download
1 Apologies for absence,
2 Chairman's Address
3 Minutes of 2016 ,
4 Matters Arising,
5 Secretary's Report
6 Treasurer's Report,
7 Travel Sec Report,
8 Social Sec Report,
9 Newsletter Editor's Report,
10 Website Editor's Report,
11 Election of Officers,
12 Membership fee,
13 Any Other Business.
Notes from meeting (minutes to come from Minutes Secretary)
Attendance committee less 2 plus 8 members

Some clarifications discussed on previous minutes including a rule change

Dave reported an increase in membership to 219

Peter W reported that we have 6 club Sts and 13 ASTHs Most travel was for Sheffield Weds (33) Brentford (27_ and Newcastle (25). 27 home match and 17 away matches had travel and Morris also supported the trips.

Roy in wet Llandudno said social events, especially the Seagull pie, were very successful and more to come this year

Steve Ray reported that Newsletter should be with Dave for distribution in a couple of weeks

Sponsorship of the web led to a surplus of £332. Costs are to rise but we may be able to find a cheaper ISP.

No change was proposed in the membership fee

Rule changes were agreed by the membership to allow the use of a corporate credit card (to be published)

The meeting voted unanimously to continue Wolves Women sponsorship for the ladies and Captain Anna Price (née Perks)

2016-7 Accounts from Carol - overall deficit reported including some settling of carry over from 50

th

Dinner in last year's accounts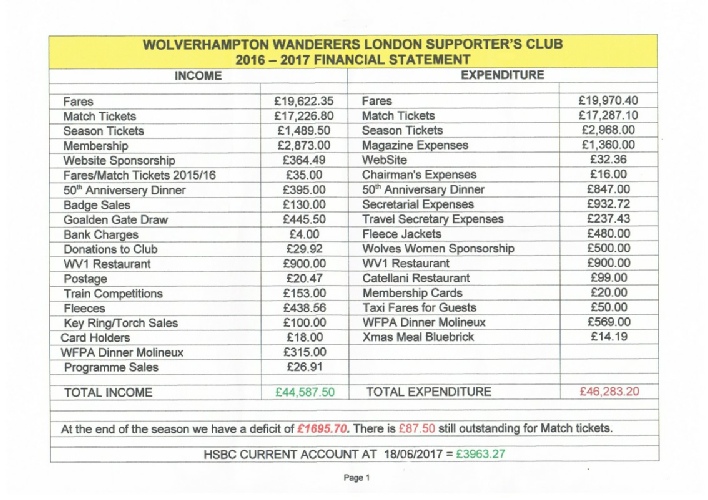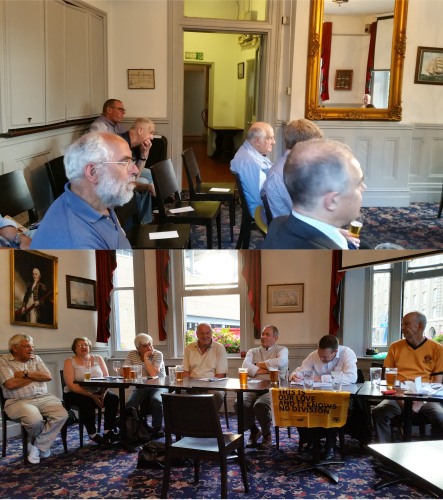 The 2016 AGM was held on Saturday 3rd September at 1pm at The Paternoster 2-4 Queens Head Passage, Paternoster Square, London, EC4M 7DZ. This is right next to St Paul's tube station and the Catherdral (North side - off Newgate St/Holborn Viaduct and opposite Greyfriars)
Agenda
1 Apologies for absence
2 Chairman's Address
3 Minutes of 2015 AGM (see below)
4 Matters arising
5 Secretary's report
6 Treasurer's report
7 Travel Secretary's report
8 Social Secretary's report
9 Newsletter Editor's report
10 Website Editor's report
11 The 50th Anniversary Dinner
12 Election of Officers
13 Membership fee
14 Any other business
Minutes of Wolverhampton Wanderers London Supporters Club AGM 2016
Meeting held at the Paternoster, 2-4 Paternoster Square, London, EC4M 7DZ on Saturday 3 September 2016
1. Apologies for absence:
Apologies for absence were received from P Abbott, D Pearl, L Mastebraker, S Armett, K Riordan, G Blake, A Allsop, J Engleman and J Leonard.
2. Chairmans address:
Stuart thanked the committee for the effort put in during the year and for organising the 50th anniversary dinner/dance. Stuart said that the club had had a very successful year culminating in the anniversary with events at Molineux and Charlton. He congratulated Roy Eagles, Dave Slape and Morris Jacobs for their fundraising efforts.
3. Matters arising from 2015 AGM:
Dave Slape asked about the latest position with xpro. Stuart said that another letter had been received from the solicitors approximately 3 months ago but had been incorrectly addressed. Nothing further had been heard since. Approval of the minutes was proposed by Roy Eagles and seconded by Dave Slape.
4. Secretary's report:
Dave Slape reported that the membership stood at 209 at the end of last season (15/16). Subs paid up to 31/7/16 were £2,721 and the Golden Gate up to the same date had brought in £636. The secretary's expenses were £1,189.82. Dave Slape said he would like to thank Peter Woodifield, Stuart Earl, Peter Bartlett, Roy Eagles, Steve Ray and Morris Jacobs.
A vote of thanks was given to Dave Slape for all his work over the last year.
5. Treasurer's Report:
Carol reported that she is still looking for a high interest account but this is proving difficult.
Peter Bartlett enquired as to the entry for DVD on the accounts and Carol informed the meeting that this relates to a payment in respect of xpro.
Phil O'Connor asked why the Club needed to have £6,000 on deposit and appeared to be making a profit each year. Carol responded that we needed a buffer for large expenditure such as the season tickets or match tickets which have to be paid in advance. After some discussion on the point Roy Eagles proposed that the balances be monitored by the Treasurer and it be reviewed next year. This was proposed by Geoff Castro and seconded by Peter Bartlett.
6. Travel Secretary's report:
Peter reported that we ran trips to all 26 home games and 15 away games. He thanked Morris Jacobs who provided transport to a number of midweek games. The highest attended trips were:
Home – Brighton (34) and Ipswich (30)
Away – Ipswich (26) and Nottingham Forest (17)
There was a slight increase in the average number travelling to home games but a slight decrease for the away games.
Fare prices varied throughout the year because we have to compete with other travellers in order to get the cheapest fares. The fare for home games varied between £16-£25. Train companies demand immediate payment once the tickets are booked.
We have renewed 6 club season tickets for the 2016/17 season on the early bird scheme and members also purchased 12 away season tickets.
Peter thanked the Wolves ticket office, particularly Dave Wood, in meeting our requests for match tickets last season and thanked Dave Slape for his help during the season and Geoff Castro for booking accommodation on some of the evening away games.
7. Social Secretary's report:
Roy reported that it had been difficult to organise events because of fixtures being changed for Sky. The Christmas event was cancelled because the match was switched . An event was held in November at which Mike Bailey attended which proved very successful as was the end of season meal and trip to Monmore.
Stuart will go to view a possible venue for this year's Christmas event. Roy is also looking as an event on 22 October to coincide with the 50th Anniversary . A pre-match meal at WV1 and possibly an evening event is the plan.
8. Newsletter Editor's report:
Steve said that the newsletter is currently with the printer and it should be out in the next couple of weeks. He asked if any of the members had any articles that they could submit, these would be gratefully received.
9. Website Editor's report:
It was reported that we now have 2600 followers on twitter.
10. 50th Anniversary Dinner:
Feedback for the event had been good to very good. There were a couple of hitches with the hotel over room bookings but these were resolved. Initially we had invited 31 guests but we were very unlucky with the responses and a number failed to respond. The response to the guests who did attend was very positive, particularly Kenny Jackett. The final attendance figure for the event was 160.
11. Election of Officers:
After some discussion it was approved by a majority to keep the committee at 11. Of the committee members 10 were willing to stand for re-election and Leo was standing down. The 10 existing committee members were duly re-elected.
Following the resignation of Leo there was one vacancy on the committee. Dave Slape said that he had received requests to stand for the committee from Peter Abbott and Phil O'Connor. Both were proposed and seconded and the proposal was put to the room.
After a majority vote Peter Abbott was voted on to the committee to replace Leo.
12. Membership Fees:
Geoff Castro suggested that the membership fee remains the same for the coming season. This was approved by a majority vote.
13. Any other business:
Peter Abbott has been asked to stand as London Wolves representative for the Wolves Fan Parliament. This was agreed by the meeting.
Peter Bartlett raised the issue of sponsorship of Wolves Women and it was agreed that the club would continue their sponsorship for the fee of £500.
The WWLSC official 50th anniversary coincides with the Leeds match on 22 October. Tim Spiers of the Express and Star has offered to prepare an article about WWWLSC for the paper.
The committee is to look at amending the rules so that the website editor is included as a full committee member.
The meeting was closed at 15:15.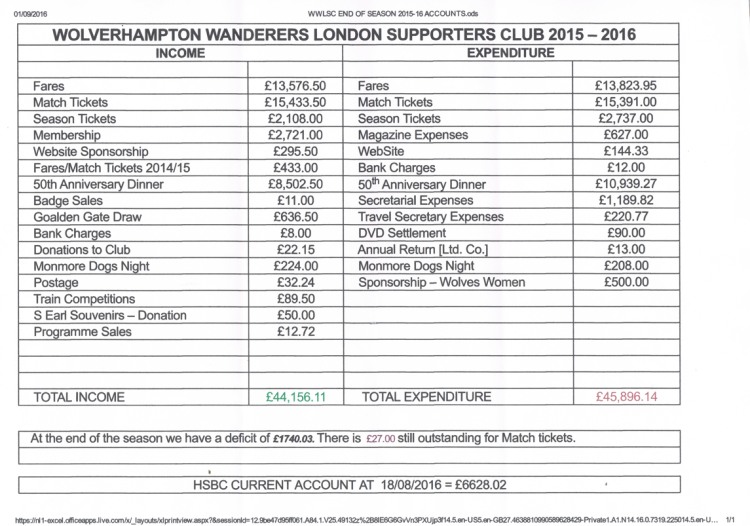 Plus Notes on the meeting - minutes to come
The Paternoster looked after us very well (having enjoyed the 50th at Charlton). The minutes will show the apologies. Stuart thanked various members for their help during the year and at the 50th celebrations. Dave's report included 209 members finishing last season + 79 renewing this. Extra cost was incurred for the new 50th badges (he has some available - £5 a pair) and to replace the Sako trophy lost by Dean Saunders. There was extensive debate about the size of the contingency bank balance until Geoff proposed that balances be monitored during this year for a report at the next AGM. Peter arranged travel for all home games and 26 away - with alternative help from Morris for some trips (although they only got as far as Sheffield for the boro Friday night game. 34 travelled with the club for Brighton home and 26 away, plus the many making their own way. Ticket requests were met for all games apart from the FA Cup at West Ham.
Events were somewhat curtailed with Sky cancelling Christmas although Roy arranged alternatives. Roy is looking for an alternative venue for Xmas - Nobby will try to help. He's also looking to arrange something around the Leeds match, and making a booking for Bully's 30th.
The website made a small profit. The printer has been away but the special edition Newsletter with 50th pictures will be out soon. 160 attended the event with great feedback and special thanks to the guests (especially Jacqui Oatley). Paul Butler and his wife were delighted to have attended. Stuart also thanked Graham Large, Richard Skirrow, and Dave Instone for their help. The number of guests was critical for room charges which could have cost £3,500 (and used the float!)
Leo Masters offered to step down from the committee if there were candidates who wished to come on. Both Phil O'Connor and Peter Abbott volunteered. Peter was elected on a members' vote. The website position was added to the executive committee retaining the two additional committee members via a rule change. Peter Abbott was also nominated as our representative on the Wolves Parliament. The membership fee was not changed pending the Treasurer's report to the next AGM
A vote of thanks was made to Paul Richards, Wolves fan liaison officer. The AGM voted to renew our sponsorship of the Wolves Women's teams. Tim Spiers of the Express & Star is planning to join a trip to Molineux this month for an article about the 50th. Thanks to Castronomic tours for finding our venue today during the summer walk. Stuart is moving to South London - a Peter Knowles clearance away from The Valley.
The 2015 meeting is on Friday 31st July with a prompt 7:30 start in The Shipwrights Arms 88 Tooley Street London SE1 2TF - just round the corner from London Bridge station. Map here https://goo.gl/maps/I9LhW
Agenda
1 Apologies for absence
2 Chairman's Address
3 Minutes of 2014 AGM
4 Matters arising
5 Secretary's report
6 Treasurer's report
7 Travel Secretary's report
8 Social Secretary's report
9 Newsletter Editor's report
10 Website Editor's report
11 Election of Officers
12 Membership fee
13 Any other business
A G M MINUTES 31st JULY 2015.
SHIPWRIGHT'S ARMS, TOOLEY STREET, LONDON S E 1
Apologies For Absence:
S Leonard, P Abbott, S Armett, S Ray, I Glass and D Gilson.
Chairman's Address:
Stuart welcomed those present and said the Club was functioning well. He introduced the committee and thanked the two Peters, Dave and Roy especially.
Minutes from 2014:
Last year's minutes were read by the attending members.
Matters Arising:
Dave asked about XPRO and the Derek Dougan DVD's. Stuart reported nothing had been
Heard from XPRO but we still owe for solicitors advice.
Secretary's Report:
Dave reported a membership of 240, paying £2229. The Goalden Gate draw had raised £605-50, Train competions, £136 badge sales £30 and programmes £2-30. Secretarial expense totalled £473-48 plus £102 for the replacement Player of the Year trophy for Bakary Sako. Dave thanked The two Peter's Stefan, Rob and Stuart for assistance over the season. Dave announced he had suspended membership renewal pending the magazine. A bulk renewal will be sent out in August. Also, the membership cards will be laminated
Treasurer's Report:
The meeting read the financial statement and Phil O'Connor asked about £552-50 outstanding For match tickets. Peter replied it was mainly owed by two people, one is seriously ill and the other Being addressed. Phil suggested a limit on credit. A loss on fares is due to part subsidised long distance matches. Credit card holders £81 [100 @ 80p], will result in a profit after 50th anniversary
Badge is embossed on them. Phil asked regarding £250 Trademark for London Wolves Ltd and Roy Said £50 Christmas profit difference was in vouchers.
Travel Secretary's Report:
Peter said trips were run to all home games and twelve away games with a good train service. Thanks again to Morris Jacobs for a number of midweek matches. The highest attendance was 30 v AFC Bournemouth at home and 27 at Wigan although, the average was down. Group Travel Was now back at Euston and Virgin are hoping to set a standard ticket price. The Club has seven
Season tickets and there was a £880 loss over the season. Peter thanked the five season ticket Loanees and twelve away season ticket holders. There was a £53-35 deficit from trips due to part-subsidised, expensive away trips. The £5 discretionary fee was not enforced and outstanding money from 2013-14 was collected but no progress for previous seasons. There is a £1 increase for
Admission to all stands next seasons and Peter thanked Dave Wood [ticket office] and Dave for help during the season. Phil asked about the seven season tickets and Peter replied, one was for sale. It was decided the committee would review the situation prior to next March's Early Bird renewals and possibly reduce the number.
Social Secretary's Report:
Roy reported problems with fixture changes at the end of the season. The Christmas lunch was Supported by 88 and The Bluebrick vouchers meant there were fifteen guests. It was the sixth year the price was set at £20. Next season, it is hoped for a racing or dogs night and the Christmas lunch before Nottingham Forest, Sky permitting. Ken Henworth stated the raffle and auction take up time. Stuart said Roy was our most positive Social Secretary. Also, it was pointed out the raffles and auctions were good PR for the Club.
Magazine Editor's Report:
Stuart advised of problems with printer [ALP] but the magazine would be out soon. He complimented Peter Bartlett for his e mails and that Stefan and Steve are unable to do future
Magazines. Phil volunteered to be editor but with reservations. Stuart thanked Stefan and Steve for their efforts.
Webmaster's Report:
Peter reported discreet advertising had reduced net costs over the last three seasons. Jack Leonard runs Facebook. Twitter has 2000+ followers. Phil complimented Peter for his e mails. Thanks were given to Peter by the meeting.
Election of Officers:
Matthew Hawthorne was confirmed as Minutes Secretary seconded by Roy Eagles. Phil O'Connor Was seconded for Magazine Editor by Matthew and Steve Ray by Phil. After discussion, the Committee was voted in en bloc.
Membership Fee:
Dave recommended the subscription rates remain unchanged.
Any Other Business:
Regarding Robbie Dennison's charity, Matthew suggested it be our charity of the year.
Anna Perks is seeking sponsorship. Peter Bartlett suggested it be a designated portion of the sponsorship deal now in place.
Dave announced that he and Peter Woodifield were to sponsor Dave Edwards for the Club's 50th anniversary.
Regarding the 50th anniversary, a change of format was suggested. A raffle pinned to a board and sealed auction would take less time after the dinner. Also, there were fifteen rooms for guests invited via Wolves. The meals are set to cost £42 and it was decided to charge £55 for members and £65 non-members. There were originally thirty rooms, now 40 and £850 had been paid in deposits. £3500 had been paid to Charlton Athletic's leasing company and 160 patrons are needed to avoid room hire.
Meeting Closed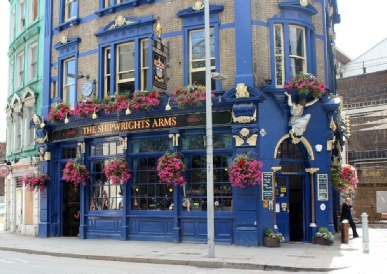 The 2014 meeting for 2013-14 was held on Saturday January 12th 2014 at the Brockley Social Club Brockley Road
Brockley map nearest station Brockley 3pm-7pm
Agenda
1 Apologies for absence
2 Chairman's Address
3 Minutes of 2013 AGM
4 Matters arising
5 Secretary's report
6 Treasurer's report
7 Travel Secretary's report
8 Social Secretary's report
9 Newsletter Editor's report
10 Website Editor's report
11 Election of Officers
12 Membership fee
13 Any other business
Minutes
Apologies For Absence:
S and J Leonard, S Armett, R and R Eagles, D Pearl , G Castro, S Ray , P O'Connor, P and J Abbott.
Chairman's Address:
Stuart reported a successful year for the Club and thanked Dave and the two Peters' particularly.
Minutes of 2013 A G M:
Matters Arising:
Stuart said a letter was received regarding the Derek Dougan DVD'S,from XPRO'S solicitors, after last years AGM . After advice from a Solicitor, £500plus, the letter was ignored since when, nothing had been heard.
Secretary's Report:
Dave reported a membership of 196 and subscriptions paid in £2930.The Goalden Gate draws raised £660 [plus £48.50 to be banked] The train competitions £203, badges £25,programmes £13.19 and Roy Eagles pens £100. Expenses for the season totalled £496-72 ,of which £341-97 Was for postage.
Treasurers Report:
The Financial Statement was read by all and only a £12 membership refund queried. It being for
an overpayment.
Travel Secretary's Report
Trips were run to all 26 home and 17 away and thanks to Morris Jacobs for midweek away games. There was a deficit from trips of £945-50, due to the Club part-subsidising some of the more expensive trips. Fare prices varied because of competition with other passengers and the discretionary £5 was not enforced. Outstanding money from 2012/13 was collected but three people owe for last season. Seven season tickets had been bought for £3130 and a loss of £595 was made on sale of tickets, Thanks to members for the loan of their tickets which did not result in the loss on ticket sales. The Club has again got the season tickets and there 13 away season tickets bought by members. Match day prices have been increased for 2014-15. Thanks to Wolves' ticket office, Dave Wood particularly , Dave Slape and Bob Richards for their help during the season.
Social Secretary's Report:
Roy's Letter reported a great season with ,the Christmas Lunch at the Blue Brick and two visits to Steve Bull's restaurant .The Blue Brick has a loyalty card system plus, good food and surroundings for guests and members. The end of season function was a meal in Sir Jack's followed by a Northern Soul event.. Also, thanks to all who bought the pens.
Newsletter Editors Report:
The magazine is high quality and hopefully well received.
Webmasters Report;
Peter reported £60 had been raised by advertising and the Club had 1600 followers on Twitter Jack Leonard was running Facebook and e news is sent to all with a email address. The software collapsed when the website was being upgraded but this is mostly sorted out now. Thanks to Carol, Peter Mark Feehan and Roy for their photos.
Proposal from Phil O'Connor:
Phil had sent a proposal to reduce the committee by two which, was not seconded.
Election of Officers:
Stan Armett had sent his resignation. Matthew Hawthorne counter proposed Peter Abbott to replace Stan,if he wishes. This was seconded by Dave and carried by the meeting. The rest of the committee was voted en bloc.
Membership Fee:
Carol proposed the family membership be altered to a member plus under 18 year olds. Alan Allsop seconded and the motion was carried. All fees to remain as is.
Any Other Business:
Peter Woodifield asked why the venue for the AGM was back in Brockley.It was noted the attendance in Holborn was disappointing and in Wolverhampton ,the season would be well under way.
Doug Pearl wished to thank Dave Bracher and Dave Slape for their regular contact.
Dave Slape wished to thank Stuart, Peter Woodifield, Peter Bartlett, Stefan, Roy and Ruth and Tommy Turner for their assistance last season.
Meeting Closed.
London Wolves Club rules include the conduct of AGMs here
Past AGMS are on the old archive website here. The minutes of the 2013 AGM follow
Date: Saturday 10th August 2013.
Location: Lych Gates Tavern, Queen Square, Wolverhampton.
Attendance: 31.
Committee: S. Earl, S. Armett, R. Eagles, R. Goddard, M. Hawthorne, S. Leonard, S. Ray, D. Slape
and P. Woodifield.
Agenda:
1. Apologies for absence
2. Chairman's Address
3. Minutes of 2012 AGM
4. Matters Arising
5. Secretarys Report
6. Treasurers Report
7. Travel Secretarys Report
8. Social Secretarys Report
9. Newsletter EditorsReport
10. Website Editors Report
11. Election of Officers
12. Membership Fee
13. Any Other Business
Apologies for absence: Paul Richards (Wolves FC), S. Tetlow, P. Tetlow, P. Bartlett, L. Masters, D.
Pearl and A. Marshall.
Chairman's Address: Stuart welcomed everyone and thanked the Lych Gates Tavern for aiding the
Club at short notice. He thanked Dave, Peter and Steve for their work last season.
Minutes of 2012 AGM:
Matters Arising: Stuart said he had heard nothing from EXPRO's solicitors since November 2012
with regards to the Derek Dougan DVD's.
Secretary's Report: Dave reported a membership of 229, paying in £2946.00 in subscriptions.
Expenses totalled £646.60, £384.55 of which was for stamps. The train competitions raised £163.00
and Sales £49.61. Dave thanked the two Peter's, Rob Goddard and Stefan for their assistance.
Treasurers Report: In Tim's absence Dave reported a profit of £761.62. Peter took over and said the
High Interest account could be higher with interest added.
Travel Secretary's Report: Peter reported a profit of £222.75 but three members still owe for match
tickets. Trips were run to 23 home and 15 away matches. There was a good train service from Euston
AGM
MINUTES
3
and the Call Centre in India had provided a reasonably good service. The highest attended trips were
40 for Nottingham Forest and 38 for Sheffield Wednesday at home, and 22 Peterborough United and
21 Nottingham Forest away. The average number travelling was down on the previous season, which
was in the Premiership. Fare prices again varied because of competition with other travellers. Peter
needed to book early to get cheaper fares and can make provisional booking three months in advance.
Payment is required at the time of booking apart from with Virgin Trains. Debts for the 2011-12 season
have been paid, but there has been no progress on previous seasons. Seven Club Season Tickets
were purchased on the Wolves Early Bird scheme in March costing a total of £3352.00. A profit of
£366.00 was made on the sale of match day tickets. Thanks once again to members who loaned their
season tickets when not attending themselves. We have again renewed Club season tickets for the
2013-14 season on the Early Bird Scheme. Early Bird season ticket holders have received refunds
because of Wolves relegation, and twelve away season tickets have been bought by Club members.
Peter offered thanks to Wolves Ticket Office, and particularly Steve who has now left Wolves. Also,
thanks to Dave Slape and Bob Richards for their help last season.
Social Secretary's Report: Roy reported the Christmas Party was the biggest yet, but was a rush
and finished late. Guests were a good mix, with Matt Murray, Wolves Women and a Club official. The
end of season match at Brighton we had a meal in the Snowdrop pub followed by a night at the greyhound
racing. For this season Roy has options open for Christmas and a horse racing evening, including a
Queen tribute band for the end of the season.
Newsletter Editor's Report: Steve stated Stefan is to be more involved this season and the magazine
would be A5 size after consulting the membership.
Website Editor's Report: Dave reported £174.61 had been spent although £32.36 will show in
2013-14 figures.
Election of Officers: The committee was returned with the exception of Tim Richards who will be
replaced by Carol Randall. Thanks to Tim for his efforts over the years.
Membership Fee: No change.
Any Other Business:
• Doug Pearl wished to thank Dave Slape for his weekly phone call of support following his serious
heart surgery.
• The Club is to carry on the support for Wolves Women in preference to kit sponsorship.
• Carol asked if the Club was to send a wreath for David Wagstaffe, but it was decided a donation
would probably be preferred.
• Roy Eagles won the free draw signed shirt.
Meeting Closed at 12:30pm.